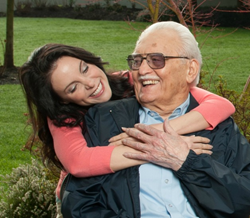 Des Moines, WA (PRWEB) June 14, 2014
Sometimes the best thing we can do to enhance the relationship we have with our father is to know when to ask for help from a professional caregiver. Wesley Homes, the Pacific Northwest-based, non-profit organization dedicated to providing retirement communities and home health services for older adults, can help dads with the "activities of daily living" that they need assistance with in their own homes. These tasks range from bathing, dressing and preparing meals to providing transportation and keeping the house clean and tidy. By having someone else relieve some of the responsibility of giving care to an elderly parent, a family has more time to spend with a parent doing things that are fun and enjoyable.
A lot of adults who provide care for their aging parents feel pressure, or even guilt, to dedicate more time and resources than they have available to help their parents with daily tasks. Although this act comes out of love, it can often cause tension in the relationship between the people involved. According to WebMD, "caregiver burnout is a state of physical, emotional and mental exhaustion that may be accompanied by a change in attitude - from positive and caring to negative and unconcerned." Like depression and severe stress, this condition has real symptoms and greatly affects the life of the person experiencing it, as well as the person for whom they are caring.
Wesley Homes has caregivers available by the hour, or by the day if 24 hour live-in care is needed. For those who want the socialization of a community setting, Wesley Homes also offers retirement communities with all levels of care in Des Moines, Washington and Auburn, Washington. These retirement communities include meals and housekeeping and have full social calendars provided with something fun for everyone. Some of the most popular activities include exercise classes, game nights, overnight trips, live entertainment and outdoor activities to enjoy nature. Go to wesleyhomes.org for more information or call toll free 866-WESLEY-0 (866-937-5390).
About Wesley Homes
Wesley Homes is a mission driven not-for-profit organization that provides a network of services offering a continuum of care for older adults. It is affiliated with the Pacific Northwest Conference of the United Methodist Church.
Well known for its Des Moines retirement community, Wesley Homes has been home to generations of Northwest families since 1944. Today, Wesley Homes serves residents in retirement communities in Des Moines and Auburn as well as home health clients in their own homes in King and Pierce Counties.
Wesley Homes' vision is to build a network of services providing a continuum of care for older adults. This network offers a comprehensive array of services so that residents, clients and their families receive the care they need in the place that they live without having to leave their community.
###
WESLEY HOMES
Retirement Communities │ Home Health Services │ Foundation
815 S. 216th Street
Des Moines, WA 98198
(206) 824-5000