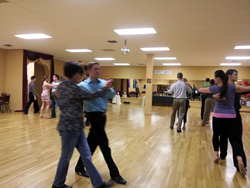 Learning ballroom dance is fun.
St. Louis, MO (PRWEB) June 25, 2014
Here's a bit of news: recent double-blind studies show that the more a person is exposed to negative events, the more their moods and attitudes will be altered. This is because neural pathways are shaped by a variety of external sources, including positive and negative experiences, thought processes, and emotional responses. Dance Pizazz, the St. Louis area funnest, friendliest dance studio (http://www.dance-pizazz.com), knows that ballroom dance can help change anyone's negative ways through the positive experiences dancing can bring. This positive change can happen because taking regular ballroom dance lessons can help anyone improve their mood through:
1. Regular exercise: Ballroom dance is a proven cardio workout that also tones muscles while enhancing flexibility. Plus, since dancing gets the body moving, a variety of mood-boosters are released. Compared to other types of exercise, dancing can serve as a one-stop shop to help meet an individual's fitness needs while actually making them feel good.
2. Constant learning: Learning how to dance and improving on technique can be boundless. From experiencing the first Waltz, to preparing a choreographed Salsa routine, a dancer's work is never done -no matter their experience level (beginner, intermediate, or advanced). This is excellent news for the brain, as the process of learning is one that not only keeps the mind engaged but can also instill and promote personal motivation.
3. Socialization: Dancers of any level have at least one thing in common and it's their curiosity about dancing. Many studies show the benefits of being part of a shared activity on a regular basis -such as Dance Pizazz's weekly Group Lessons and/or Dance Parties. Engaging in simple socialization and small talk with others has been linked to the dramatic decrease in the likelihood of developing life-altering diseases, such as dementia.
What better way for someone with a negative outlook to turn a frown upside down than through an all-inclusive form of exercise? Ballroom dance can address many issues at once, all while having fun! Check out http://www.dance-pizazz.com to see how dancing has changed many lives for the better.