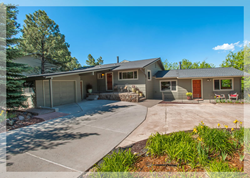 Paula, the current homeowner explains the choice to sell, "it is time to retire, move on and pass on to others the privilege of being the new caretakers of this wonderfully unique home."
Flagstaff, AZ (PRWEB) June 22, 2014
The Cherry Hill Bed and Breakfast run by Flagstaff's Martini family, is now up for sale. Recently renovated with eco-friendly and green options in mind, this home can be used as a large single family home that includes a large mother-in-law suite with its own entrance or as a small bed and breakfast.
The home was originally purchased for the Martini family's four daughters, competitors in both water skiing and alpine racing, as they went to NAU. Paula Martini, one of the daughters, has lived in the home for 42 years and successfully ran the East Cherry Inn Bed and Breakfast with her husband using the lower 2 levels of this rambling 4 level hillside home for more than 20 years.
Located in Flagstaff's historic district, this Cherry Hill Beauty can continue to be run as a bed and breakfast or can easily be used as a large single family home. The property has been recently remodeled to be energy efficient and eco-friendly. Paula, the current homeowner explains the choice to sell, "it is time to retire, move on and pass on to others the privilege of being the new caretakers of this wonderfully unique home."
About Flagstaff Real Estate Services
Mary Mendoza and Jeanette Sauer are a group of expert Flagstaff Realtors for Russ Lyon Sotheby's International Realty. Living in Flagstaff, Arizona, they are knowledgeable about all things related to Flagstaff and have over 35 combined years of experience in real estate. If you are interested in purchasing or selling a Second Home, Luxury Home within a Golf Community, Horse Property or Equestrian Estate be sure to utilize two of the most talented Flagstaff real estate professionals, Mary Mendoza and Jeanette Sauer.