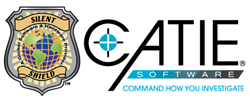 CATIE significantly reduces the amount of time spent investigating cases and processing evidence with its state-of-the-art functions.
Atlanta, GA (PRWEB) July 28, 2014
Silent Shield, LLC, officially released its highly anticipated, evidence gathering and tracking software, CATIE today. CATIE, or Capture And Track Investigative Evidence, offers active law enforcement personnel and government agencies a new, more sophisticated level of tracking, preserving, and securing online, offline, and real-time investigations and evidence.
CATIE provides cost-effective tools to track, trace, and preserve evidence, which results in a more accurate and efficient data capture than most processes in use today. The software boasts an interactive command center (ICC) that operates in zones. The ICC collates and manages user profile preferences so multiple law enforcement officials can easily and methodically interact on the same cases.
The software is available to registered law enforcement and government agencies and offers features that include multiple, simultaneous video recording windows, advanced/automated screen capturing methodologies, specialized key logging capabilities, instantaneous Internet protocol (IP) tracking, encrypted agent-to-agent communications, lightning fast report generation, and the ability to simultaneously manage multiple investigations. CATIE is easily customized with optional software modules, such as Covert Short Message Service (SMS), which incorporates text messaging interchanges and logging, to meet each agent's or agency's unique needs. CATIE's reach and powerful backend systems further support and streamline the investigative processes.
"We're excited to offer CATIE with its advanced technical capabilities, innovations and streamlined processes," says Jim Persinger, Silent Shield's Managing Partner. Persinger adds, "CATIE significantly reduces the amount of time spent investigating cases and processing evidence with its state-of-the-art functions. CATIE is a force to be reckoned with because it proactively empowers its user, increases efficiencies, and offers cutting-edge technical advances that have not been available until now."
CATIE is a powerful tool in the fight against criminal activity, including the onslaught of human trafficking and child endangerment, drug and arms dealing, and hacking and cyber stalking; the software is Silent Shield's newest addition to its CyberNet Suite(SM). CATIE's data can interface with other forensic tools, saving valuable investigative time in both the field and the lab.
Silent Shield is also sponsoring the first team-oriented Digital Crime Scene Challenge at the 26th Annual Crimes Against Children Conference, in Dallas, Texas, from August 11−14, 2014. Bill Walsh, Conference Coordinator for the Crimes Against Children Conference, says, "We have wanted to offer a Digital Crime Scene Challenge for the last few years. Teams of three will compete against each other in a mock crime scene with the goal of collecting as much evidence as possible within a specific time frame and formulating an investigative response plan. This is the first time the conference can offer a team challenge of this nature and magnitude due, in part, to Silent Shield's generosity."
Silent Shield's mission is to proactively empower law enforcement and government agencies by providing hardware devices, software products, and specialized training to increase the responsiveness and effectiveness of officers, agents, and military personnel. A portion of Silent Shield's proceeds supports related non-profit organizations.
To learn more about CATIE and the editions available, go to http://www.CatieOnline.com to register. Each edition of CATIE, including the Trial Edition, is only available to vetted, active law enforcement or military personnel, or government agencies.
Media inquiries may be directed to Evelyn Bishop-Persinger at Evelyn(at)SilentShield(dot)com or (678) 838-4243.