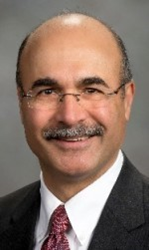 "There is a tremendous legacy he (Dr. Ahmadian) has created in encouraging and recruiting current and former students to become active in SAE technical activities." - Greg Muha, SAE's Commercial Vehicle Lead
Warrendale, PA (PRWEB) August 06, 2014
SAE International is proudly recognizing Dr. Mehdi Ahmadian with the honor of delivering the L. Ray Buckendale Lecture at the 2014 Commercial Vehicle Engineering Congress in Rosemont, Illinois, October 7-9. The lecture will be held at 8:30 a.m. on Wednesday, October 8 at the Donald E. Stephens Convention Center.
The L. Ray Buckendale Lecture was created to honor the memory of the 1946 SAE President L. Ray Buckendale, whose greatest desire was to develop potential in young people. For this reason, the lecture was established in 1953 in order to provide an opportunity for young engineers and students to reap the benefits of sound, practical information on topics within the commercial vehicle industry from the voices of the most esteemed and involved members of the industry.
Dr. Ahmadian is an exemplary recipient of this recognition as he has reflected a similar passion for youth in the commercial vehicle industry, currently serving an active role in students' lives as the Dan Pletta Professor of Mechanical Engineering at Virginia Tech. When asked about Dr. Ahmadian's work, Greg Muha, SAE's Commercial Vehicle Lead, said, "There is a tremendous legacy he has created in encouraging and recruiting current and former students to become active in SAE technical activities."
Having known Dr. Ahmadian for ten plus years, Muha has had a clear view of his work, but what has always stood out so brightly to Muha is "the passion and dedication he has for aspiring young engineers and the students he teaches."
Muha encourages "all young people associated with SAE International to come hear Dr. Ahmadian during the Buckendale Lecture" in order to witness his "indelible mark on the SAE International community and why he is considered one of the brightest engineering minds in the commercial vehicle community."
Dr. Ahmadian will be delivering a lecture entitled "Integrating Electromechanical Systems in Commercial Vehicles for Improved Handling, Safety, and Comfort." Aside from serving at Virginia Tech, Dr. Ahmadian is the founding director of several organizations, holds eight U.S. and international Patents, and has held many editorial positions for some of the top magazines in the commercial vehicle industry. To learn more about Dr. Ahmadian, or to sign up for the Commercial Vehicle Engineering Congress, visit http://www.sae.org/cve.
SAE International is a global association committed to being the ultimate knowledge source for the engineering profession. By uniting more than 145,000 engineers and technical experts, we drive knowledge and expertise across a broad spectrum of industries. We act on two priorities: encouraging a lifetime of learning for mobility engineering professionals and setting the standards for industry engineering. We strive for a better world through the work of our philanthropic SAE Foundation, including programs like A World in Motion® and the Collegiate Design Series™.