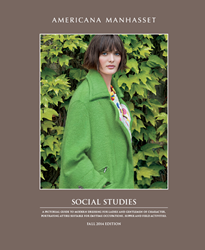 The Fall runway shows exuded luxury. We saw a lot of classic looks that featured a modern twist, along with rich tones and gorgeous textures in both formal and casualwear.
Manhasset, NY (PRWEB) August 19, 2014
This month Americana Manhasset debuts its full color 60-page Fall Fashion Book, "Social Studies." Fall ready-to-wear accessories and jewelry from the most luxurious brands in the world are captured in a high-style picture book starring top runway and editorial models Sam Rollinson and Clark Bockelman.
The campaign was shot north of New York City at Lyndhurst Castle in Tarrytown, NY and on the grounds of the Harriman Estate in Harriman, NY. Photographed, produced and styled by Laspata/DeCaro, the campaign has an uber-luxe feel in keeping with the Fall collections. At the same time, there is a bit of a tongue-in-cheek reference to the aristocratic lifestyle portrayed in the images. While our female and male model appear to be "of the manor born," they exude a casual ease, even a touch of rebellion. They seem not to take their inherited place in society too seriously. While shot in somewhat formal settings, the sensibility of the campaign is young and fresh.
Americana's Fall Book will be direct-mailed to 130,000 targeted households. The images will be featured in national and regional print ads in publications such as The New York Times and T-Styles magazine and The World Journal newspaper, as well as in various digital media such as nyt.com. The campaign will also be shown prominently throughout the season on Americana's website, americanamanhasset.com.
In conjunction with the still images, Americana Manhasset will debut a short film, also entitled "Social Studies." Shot in black and white and using a drone to capture footage, the piece features Sam Rollinson in a dreamy and somewhat other-wordly environment. The short film will appear front and center on Americana's website as well as in digital ads. Americana's Fall campaign also includes a 3-minute behind-the-scenes video which gives viewers an insider's glimpse into the exciting photo and video shoot. The music and editing of the video pieces exemplify the hypnotic and timeless tone of the campaign.
"The Fall runway shows exuded luxury. We saw a lot of classic looks that featured a modern twist, along with rich tones and gorgeous textures in both formal and casualwear. Lyndhurst Castle and the Harriman Estate were the perfect backdrops for these collections and we wanted to create the sense that Sam and Clark were at home in these settings," said Charles DeCaro. "While comfortable in the life that they were born and bred into, they are the new generation of aristocrats, pushing the rules of etiquette with a little irreverence."
Americana Manhasset is a premier collection of over 60 fine shops, including Hermès, Dior, Louis Vuitton, Gucci, Bottega Veneta, Prada, Cartier, Ermenegildo Zegna, Van Cleef & Arpels, Hirshleifers, London Jewelers and more, all within a unique outdoor environment designed by renowned architect Peter Marino and landscape designer Oehme van Sweden. Americana Manhasset offers a complimentary Personal Shopping Service, a remarkable luxury fashion and gift resource. Located on Long Island's beautiful North Shore, Americana Manhasset is 20 miles from Manhattan and 50 miles from the Hamptons.
Check out our blog. Like us on Facebook and follow us on Instagram, Twitter and Pinterest. Subscribe to your our YouTube channel.
Additional and/or high-resolution images from the 2014 Fall campaign are available upon request.