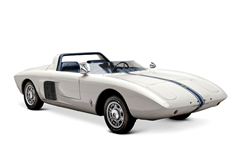 It's a tribute to Mustang I, the first car to bear the 'Mustang' name, as the start of this 50 year legacy and the origin of an iconic brand
Dearborn, MI (PRWEB) August 20, 2014
The Henry Ford's 1962 Mustang I concept car recently was voted Best in Class for Competition Mustangs at The Quail, A Motorsports Gathering in Carmel, California. Unlike traditional shows, where awards are determined by a panel of judges, award winners at The Quail are selected by the participants themselves. Mustang I was chosen as the most significant car in its class.
"It is an honor to have been given this award by our fellow participants in the Competition Mustangs class," said Matt Anderson, Curator of Transportation at The Henry Ford. "It's a tribute to Mustang I, the first car to bear the 'Mustang' name, as the start of this 50 year legacy and the origin of an iconic brand."
The Quail, A Motorsports Gathering provides an unparalleled and exclusive experience for motorsports enthusiasts and collectors from around the world to see rare collections of fine automobiles and motorcycles. Competition Mustangs category was included in this year's event as part of the ongoing celebration of the 50th anniversary of the iconic pony car.
The 1962 Mustang I concept car originally made its debut on the racetrack at the 1962 United States Grand Prix in Watkins Glen, NY, driven by road-racing champion Dan Gurney. It was designed not as a production car, but as a way to suggest that Ford was an exciting, forward-thinking company. Though it was an entirely separate project, some of Mustang I's styling cues were echoed in the later production Mustang introduced in 1964.
The Quail was part of the final stop in the THF OnWheels Tour, a national road trip for The Henry Ford's Mustang I concept car and Mustang Serial Number One. For more information on The Henry Ford's Mustang collection, visit our online automotive enthusiast channel THF OnWheels at http://www.thehenryford.org/onwheels. For news and information straight to your email, sign up for the free e-newsletter at http://www.thehenryford.org/enews.
About The Henry Ford
The Henry Ford in Dearborn, Michigan is an internationally-recognized cultural destination that brings the past forward by immersing visitors in the stories of ingenuity, resourcefulness and innovation that helped shape America. A national historic landmark with an unparalleled collection of artifacts from 300 years of American history, The Henry Ford is a force for sparking curiosity and inspiring tomorrow's innovators. More than 1.6 million visitors annually experience its five attractions: Henry Ford Museum, Greenfield Village, The Ford Rouge Factory Tour, The Benson Ford Research Center and The Henry Ford IMAX Theatre. A continually expanding array of content available online provides anytime, anywhere access. The Henry Ford is also home to Henry Ford Academy, a public charter high school which educates 485 students a year on the institution's campus. For more information please visit our website thehenryford.org.