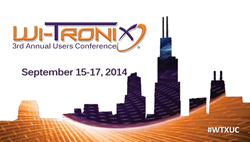 BOLINGBROOK, Ill. (PRWEB) September 04, 2014
Wi-Tronix®, LLC announces that it will host its third annual Users Conference September 15 through 17. The three day conference takes place at Eaglewood Resort and Spa in Itasca, Ill. Representatives will be in attendance from commuter, passenger long-distance, Class I and shortline railroads.
The Conference offers multiple tracks and training sessions for Wi-Tronix users to further leverage their deployed systems. Courses cover how users can utilize the Wi-Tronix system to reduce costs, provide enhanced service reliability to customers, drive safer operations, and improve environmental sustainability. Topics include system health and diagnostics, grade crossing collision detection, train handling alerts, on-demand event recorder/DVR downloads and fuel saving strategies.
The conference will also showcase Wi-Tronix's many new and planned features. Wi-Tronix will be announcing the features of its new predictive diagnostics tool. With this feature, customers will receive real-time remote data of their system health. This data provides early detection and notification of equipment problems. Customers can be proactive rather than reactive for repairs by detecting defects before they become operational issues.
For more information on the Users Conference or registration, please contact Katie Draznin at kdraznin(at)wi-tronix(dot)com.
About Wi-Tronix, LLC
Wi-Tronix, LLC, headquartered in Bolingbrook, Ill., provides products and services to wirelessly monitor high-value mobile assets for rail, marine and other commercial and industrial operations. Worldwide, Wi-Tronix monitors over 7,500 high-value mobile assets valued over US $15 billion. Wi-Tronix's mission is to enable businesses to improve the operational efficiency, service reliability and safety of high-value mobile assets. For additional information, visit the Wi-Tronix website at http://www.WI-TRONIX.com.
For Further Information
Wi-Tronix Sales & Media Contact: Chad Jasmin
email: cjasmin(at)wi-tronix(dot)com
(888) WITRONIX (948-7664) ext. 307