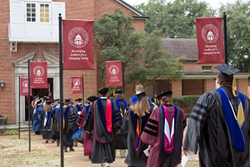 Our entire Centenary community takes pride in this national recognition.
Shreveport, LA (PRWEB) September 09, 2014
Centenary College was named a Tier One National Liberal Arts College for the fourth year in a row in the 2015 U.S. News & World Report ranking released today. The colleges recognized in the U.S. News ranking emphasize undergraduate education and award at least half of their degrees in the arts and sciences.
"Our entire Centenary community takes pride in this national recognition," said Centenary president David Rowe. "Our students do more in the classroom, the community, and across the globe thanks to the high expectations and commitment of our dedicated faculty and our intentional Centenary Leadership program. We are proud to be ranked so highly alongside other national liberal arts colleges in the Associated Colleges of the South such as Rhodes and Sewanee."
The first-year students of the Class of 2018 were the first to experience the College's Centenary in Paris immersive term, which provided a shared intercultural experience and allowed each student to earn four hours of course credit before most of their peers around the country even started college. Planning has begun for the second year of the Centenary in Paris program.
Each year, U.S. News & World Report publishes the national rankings to provide reliable and consistent data to help prospective students and their families in their college search.
"During my college search, I looked for schools with a strong academic reputation and clear evidence of student success," said senior Walker Gamble. "Centenary has met all of my expectations, and I'm really grateful for the rigorous education and focused career preparation that I've had here."
The U.S. News ranking follows other national honors Centenary has received this summer:

Forbes named Centenary a "Top 100" Southern college in its annual ranking of "America's Top Colleges."
Princeton Review named Centenary one of "The Best 379 Colleges" in the nation.
For more information, visit U.S. News & World Report online.
###
About Centenary College of Louisiana
Centenary College of Louisiana is a selective, residential, national liberal arts college affiliated with the United Methodist Church. Founded in 1825, it is the oldest chartered liberal arts college west of the Mississippi River and is a member of the Associated Colleges of the South.