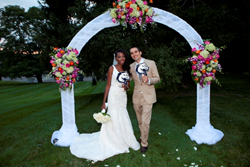 Mercy College is a very important part of our lives: it is where we studied, worked, met and fell in love.
(PRWEB) September 19, 2014
When Mary Ann Thompson and Mathieu Nikel decided it was time to tie the knot, the couple, who live in Bali, Indonesia with their son, Isaac, said there was only one choice for them – Mercy College. The two met at Mercy College in 2001 when Thompson was an undergraduate student and needed a French tutor. She knew Nikel, who was a graduate student at the time, was French and so she asked him.
Thompson is originally from Jamaica and migrated to the United States when she was 7 years old. Nikel is originally from France came to the United States when he was 16 years old as part of a high school exchange program. Once here he decided to continue his education. He earned an MBA from Mercy College.
Thompson said: "Our relationship blossomed from friendship into a love story in 2004. In 2005, Nikel relocated to Bali, Indonesia for a job opportunity. We had a long-distance relationship for quite some time. During one of my visits Mathieu proposed which sparked my finding a job there and relocating."
The couple who have been living in Bali for the past ten years also started their family there. In 2009, Thompson gave birth to their son, Isaac. Currently, Thompson is working on developing her own online accessories company; Nikel is developing his own clothing line.
Thompson said: "Through attending Mercy College were able to meet each other and so many close friends. I could not imagine a more perfect place for our wedding to be held. Mercy College is a very important part of our lives; it is where we studied, worked, met and fell in love."
The ceremony and reception took place at Verrezzano Hall at Mercy College's Dobbs Ferry campus. The ceremony was held at the pool under the trellis. The reception was held on the slate patio behind the brick mansion overlooking the Hudson River.
About Mercy College
Founded in 1950, Mercy College is a private, not-for-profit higher education institution that offers more than 90 undergraduate and graduate degree and certificate programs within five prestigious schools: Business, Education, Health and Natural Sciences, Liberal Arts and Social and Behavioral Sciences. Mercy College offers an engaging and personalized learning experience that includes the College's revolutionary Personalized Achievement Contract (PACT) program. The Mercy College PACT is the first program of its kind and now serves as a nationally recognized model for mentoring. http://www.mercy.edu/ 877-MERCY-GO.