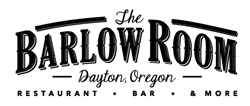 Bring a friend or two, brainstorm an awesome team name, and you're ready to play! The beauty is that it's totally interactive, fun and free.
Dayton, Oregon (PRWEB) September 30, 2014
For those looking for a night of fun without breaking the bank, Dayton's new local restaurant and bar, The Barlow Room, is announcing a weekly Pub Quiz Night. In partnership with "Geeks Who Drink", a Denver-based company that hosts Bar Trivia at over 300 pubs and restaurants in 25 states, The Barlow Room will kick-off a weekly Thursday Pub Quiz on October 16, 2014.
"Bring a friend or two, brainstorm an awesome team name, and you're ready to play! The beauty is that it's totally interactive, fun and free. Though you may want to buy a pint and some steak bites to enjoy during the game," says Chef Christopher Czarnecki, Executive Chef and Owner of The Barlow Room.
Patrons are guaranteed an evening of fun and prizes as this is not a typical "trivia night" with a bunch of people staring at TVs with buzzers in hand. Instead, The Barlow Room Quiz Night will burn through nearly 70 multimedia questions in two exciting hours. The "Geeks Who Drink" Quizmaster will get to know players, allowing for more personalized entertainment and friendly banter.
Gift certificate prizes will be awarded to winning teams and The Barlow Room's full food and bar menus will be available during Thursday Quiz Nights, including a range of specialty craft cocktails, local beers on draft and a selection of wines by the glass. There's no additional cost for patrons to participate in the quiz games.
To reserve a spot for Thursday Quiz Night or for information about private events at The Barlow Room Restaurant and Bar, call 503-714-4328 or visit the website at http://www.thebarlowroom.com. For the latest information on specials and events, Follow on Twitter at @thebarlowroom or Facebook at http://www.facebook.com/thebarlowroom .
About The Barlow Room, Restaurant and Bar
The Barlow Room is a comfortable and historic restaurant and bar located in the heart of Oregon's Willamette Valley wine country. The restaurant features a casual dining menu, inspired by Northwest cuisine, with a distinctive yet classic cocktail, wine and beer selection. The decor is inspired by the Oregon pioneer spirit and local history. The exposed brick walls showcase historic photos of Dayton and the local area, providing a sense of history, tradition and pride.
The layout of The Barlow Room is "open concept", with comfortable lounge seating and bar open to the dining room area. The energy and atmosphere of the restaurant is relaxed yet vibrant, drawing its distinctiveness from the exposed brick walls, dark wood flooring, majestic mahogany bar and rich decor.
The Barlow Room is open for lunch and dinner five days a week, Wednesday through Sunday, from 11:00 am to 10:00 pm, with a weekday Happy Hour featuring drink and food specials from 2pm - 5pm. Gift Certificates are available and The Barlow Room also offers off-site catering services for local events.