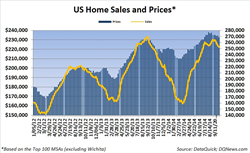 The best thing for first-time home buyers is to apply for a home loan now and lock in a good rate.
Chicago, IL (PRWEB) October 03, 2014
At first glance, Peoples Home Equity was disappointed to see weekly home sales decline for the 3rd week in a row. However, the lender was uplifted to see that the difference in home sales last week versus 2013 has narrowed to just 1.8%.
According to the latest National Home Sales Snapshot from DQnews.com, both home sales and median home prices fell week-over-week. Home sales declined -1.1% while prices fell just -0.8%. The decline is the start of what is seasonal weakness in the housing market. Every year home sales dwindle up in the fall and winter. However, even as home sale are declining they are outperforming the numbers reported the same time last year.
Peoples Home Equity is already expecting this fall and winter to see higher housing relative to 2013. Why? More Americans are employed now to afford a mortgage. Home prices have just continued higher due to low real estate inventories pressuring individuals to obtain financing and purchase a property now before real estate prices rise further. The fact that real estate inventories will dry up in the fall and winter only puts more pressure on demand to purchase properties at probably higher prices.
Mortgage rates are also on the verge of increasing higher towards 5%. With the end of third installment of the Federal Reserve quantitative easing program, interest rates are expected to move higher. In fact, the Fed is intentionally going to raise rates leading to overnight mortgage rate hikes when this occurs. The best thing for first-time home buyers is to apply for a home loan now and lock in a good rate. Obtaining financing first before home shopping should also be priority since sellers will not take a buyer bid seriously unless he or she has funds to back up their offer.
Contact a Peoples Home Equity loan officer today at: 262-563-4026