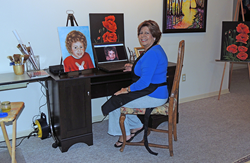 Barbara is a self-starter for sure. She just keeps getting better and better with every piece of artwork that she shows me.
Homosassa, FL (PRWEB) October 08, 2014
Walking through Barbara DeRuiz's house, you can't help but notice the beautiful paintings on the walls – portraits, landscapes, and abstract designs. And when you look at the signature at the bottom of the paintings, you notice that they were all created by Barbara herself, and they are stunning. Barbara, who has a disability, is a newly commissioned artist who started her own business with the help of Vocational Rehabilitation (VR). VR helps people with disabilities find or keep a job.
Barbara first came to VR in 2008 when she needed knee surgery and help with finding a job. But the stress of looking for a job and returning to the workplace was too much for her. After some additional counseling and guidance from her VR Counselor, Jayne Brown, they came to the realization that Barbara had a hidden talent that could actually earn her enough money to live on.
Barbara started working with Martin Zients, of The Management, to create a business plan for her new venture. VR also provided office equipment, art classes, supplies, and a show tent to help her be successful. Barbara started receiving commissions for individual portraits. Although she enjoys painting portraits, Barbara's plan was to travel to area art shows to sell her paintings, and she realized that abstract works would be more popular.
She paid her own way to take a two-week abstract art class in New York and one week after arriving home with four completed paintings, she had sold two of them and had a request for a larger version of her third painting.
Barbara plans to attend a Miami art show to sell her paintings and says, "I think they will do well. Now all I have to do is paint some more paintings to bring with me."
Jayne is not surprised that Barbara has taken the initiative to move her new business forward. "Barbara is a self-starter for sure. She always had a smile on her face and a positive attitude. She is so kind and just absolutely talented beyond belief. She just keeps getting better and better with every piece of artwork that she shows me."
Barbara is excited to pursue her dream after participating in the services offered by VR. "I have found purpose in my life again."
About Vocational Rehabilitation
Florida's Vocational Rehabilitation (VR) is a federal-state program committed to helping people with disabilities become part of America's workforce. Our employer-focused website, http://www.FLJobConnections.com, allows businesses to search at no charge for employees who are ready to go to work, as well as to post available jobs. VR has 82 offices across Florida, and last year helped 7,214 Floridians with significant disabilities find or keep a job. For more information about VR and its services, call (800) 451-4327 or visit http://www.Rehabworks.org.