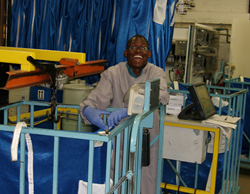 Marcus is doing an excellent job performing above expectations," said Carl. "His personality and work ethic help improve our unit.
Bay Pines, FL (PRWEB) October 22, 2014
"Last summer when Marcus was a student he was working on a small piece folder," said Carl Eagan, laundry operations specialist at the Department of Veteran Affairs (VA). "He was watching people around him and keeping up with experienced people. I told him, 'If you're consistent, I'll consider you for full time,' and he did it."
Marcus Huepenbecker, who has Attention Deficit Hyperactivity Disorder and explosive anger management issues, has found a job that he loves. With Vocational Rehabilitation's (VR) help, he was hired as a laundry worker at the Bay Pines VA Healthcare System in 2010. He found out about VR through a teacher at his high school. "VR helped me get a job here. I wouldn't have this job if it wasn't for VR," said Marcus.
His VR counselor, Kristie Berger, recommended Job Coach Christy Brown with Placement Works to help Marcus with the application process including helping him create his resume, fill out the applications, and other paperwork.
VR also helped Marcus with transportation costs and with working on his anger and impulsivity issues that had caused problems on past jobs. "They helped me understand the ups and downs of the job," Marcus said. "They made me look at the brighter side of having a job and motivated me to work at a significant pace."
His job coach was there to help address any behavioral issues he had while on the job. "VR provided him a chance to work for an outstanding employer that not everybody gets," said Kristie. "He also has a very understanding supervisor."
Carl, his supervisor at the VA laundry, had worked with VR in other states and was familiar with the process. "I support the program," he said. "VR helped me by being there and working with me. They helped me teach him to respect having a job."
Marcus has been a great asset to his job. His supervisor and coworkers enjoy working with him daily. "Marcus is doing an excellent job performing above expectations," said Carl. "His personality and work ethic help improve our unit."
Kristie thinks he's a success because he takes his job seriously, and he is a people person. "He likes to make people laugh. He makes it more enjoyable just because he has a carefree attitude, but he's serious about his work."
Marcus is eager to get back to school so he can earn his bachelor's degree in management. He is determined to keep being on time and being efficient in his job. "I love video games, hanging out with friends and family, but I enjoy working most of all," said Marcus.
About Vocational Rehabilitation
Florida's Vocational Rehabilitation (VR) is a federal-state program committed to helping people with disabilities become part of America's workforce. Our employer-focused website, http://www.FLJobConnections.com, allows businesses to search at no charge for employees who are ready to go to work, as well as to post available jobs. VR has 82 offices across Florida, and last year helped 7,214 Floridians with significant disabilities find or keep a job. For more information about VR and its services, call (800) 451-4327 or visit http://www.Rehabworks.org.