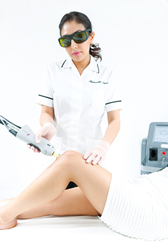 CoLaz Introduces New technology to reduce pain and improves results.
London England UK (PRWEB UK) 15 October 2014
Colaz, a UK-based laser hair, beauty, and skin treatment company, recently invested hundreds of thousands of pounds into faster lasers utilizing the latest technology. With the new lasers, Colaz has equipped its four locations to perform more advanced treatments with more effective results.
With locations in London, Slough, Southall, and Hounslow, Colaz is a preferred provider of laser beauty treatments throughout England. The staff regularly attends industry events to learn about the latest technology, bringing some of those ideas back to the U.K. for its customers. Colaz offers customised laser treatments for hair and fat removal, providing minimally-invasive treatments for a variety of beauty- and health-related issues.
"Since 2005, the professionals at Colaz have provided great results to our customers," says Manroop, Owner of CoLaz. "Using this new technology, we'll be able to speed up procedures while also enjoying better results."
Colaz's laser hair removal treatment uses the best technology on the market today to eliminate unwanted hair on a patient's face or body. The treatment is used on both male and female clients and, once completed, allows a client to be hair-free without shaving or waxing. Colaz also regularly treats clients suffering from polycystic ovary syndrome (PCOS), which can cause excessive hair growth. Through a series of laser treatments, patients can reduce the unwanted hair and enjoy a reduction in symptoms.
As the holidays approach, Colaz is seeing an increased interest in its laser slimming procedures. Using its innovative Laser Lipo Infra Light, Colaz gives removes unwanted fat and reshapes the body without having to resort to surgery. Recovery is faster and complications are minimized using this approach. Professionals can also target inch loss with laser lipo, giving a clients the desired results.
In addition to its laser procedures, Colaz offers a variety of revolutionary treatments that are both effective and as painless as possible. The company strives to remain at the forefront of research and development in the industry, providing the latest technology to ensure patients get lasting, pain-free results. Treatments include the latest techniques in microdermabrasion, permanent makeup, cosmetic teeth whitening, and the Colaz Fat Freeze. Each service is provided with friendly, personalized customer service that makes the process enjoyable.
With prices starting at £40, Colaz's laser procedures are an affordable, permanent solution to a client's beauty requirements. For a customized consultation, clients should contact Colaz here