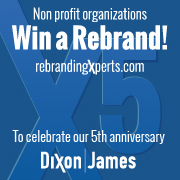 One non-profit organization can start 2015 with a dynamic new brand that will accelerate its growth.
Chicago, Ill. (PRWEB) October 15, 2014
To celebrate its fifth anniversary, Dixon|James Communications of Chicago will offer one U.S. non-profit organization a complimentary rebranding exercise to accelerate its growth.
The firm's Rebranding Xperts team will provide the selected organization with a custom conceived new branding platform to include: a new name, brand essence, tagline, and logo along with marketing and change management guidance.
"Many charitable organizations struggle with names and brands that are outdated and no longer accurately reflect the good work they are accomplishing in the community," says Jim Heininger, Founder|Principal of Dixon|James, who established the firm in 2009. "We know firsthand from our client work the positive, accelerating effect a rebranding can have for mission-based organizations. To celebrate our five years of success, we want to pay it forward with a complimentary new brand exercise for one well-deserving organization."
Interested non-profit organizations can nominate themselves on the registration form http://tinyurl.com/ouapqhm or by emailing rebrand(at)dixon-james(dot)com for more information. Deadline for submissions is December 5, 2014, and should include:

501c3 status certificate
Current mission statement, vision, values
Historical review of the agency's work and outcomes
Sample marketing materials (pdfs)
A written appeal as to why the organization would benefit from a rebranding (maximum 1,000 words)
Previous year financial statement
Any organization submitting a nomination should have board of directors' agreement on the need to rebrand the organization.
The Rebranding Xperts team will evaluate all entries with representatives of its non-profit clients against the following criteria:

Outdated nature of current brand versus organization's outcomes
The positive contribution rebranding will have on the organization's future growth
Agency's lack of resources to pursue a rebranding initiative on its own
The rebranding package will include the following elements and is estimated at more than $20,000 in professional services fees and production costs:

Interviews with key stakeholders
Proposed brand promise and platform
Proposed new name, tagline and key marketing message
New logo and brand visual identity direction
Website redesign direction
Guidance on how to implement the rebranding effort
About The Rebranding Xperts
Dixon|James Communications, based in Chicago, was founded by PR industry veteran Jim Heininger in 2009. The full-service marketing communications firm delivers strategic communications to accelerate business success. The firm's Rebranding Xperts team provides all-encompassing rebranding support to companies and non-profit organizations. The team's thought leadership on effective rebranding can be found on the RebrandingXperts blog.