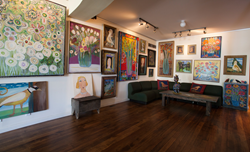 "Fans and soon-to-be fans deserve an environment in which they can be immersed in Disney's alternate reality…The Funhouse Gallery is that space."
St. Louis, MO (PRWEB) October 15, 2014
The Funhouse Gallery, a new gallery located at 6210 Columbia Avenue in Clifton Heights and devoted solely to exhibiting the artwork of Theresa Disney, will hold its official grand opening on Saturday, November 8th from 7:00 p.m. -10:00 p.m. The entire exhibit, including an installation piece, will feature Disney's comprehensive circus-themed body of work, created over a span of five years.
"It will be unlike anything the St. Louis art community has seen before—both the grand opening event, The Art of the Circus, and the Gallery," said Ruthie Zarren, co-owner of The Funhouse Gallery. "And that is because Theresa Disney's creations are one-of-a kind and demand a deserving space."
A longtime fan of Disney's work, Zarren, who also founded Little Fishes Swim School, partnered with fellow St. Louis entrepreneur, Mark Phillips, to create a venue for Disney's genius.
This kind of Disney devotion is not rare; Disney has a loyal following nationwide comprised of art collectors hungry for a venue to peruse and purchase. Prior to The Funhouse Gallery's existence, Disney's work could only be purchased at one of the four art fairs she attends throughout the country annually.
A life-long St. Louis resident, visual story teller and self-taught artist who began creating in 1988, Disney's art is classified as "folk art," but it is much more than that. From her 3-D dog series to thematic bodies of work detailing her cancer treatments and recovery, Disney gives voice to her imagination through color, form, and any medium that inspires her. She also takes on a wide variety of subject matter—from saints to sinners, from friendship to love, and, of course, the circus/carnival experience.
"I love narrative and oblique storytelling," said Disney. "The circus has always fascinated me and provides the perfect subject matter through which to explore figurative image making with abstraction."
From complex installation pieces to painted furniture, paintings, and 3D sculptures, Disney's body of work is unparalleled. Attendees of The Funhouse Gallery's opening will experience the full range of her talent. In fact, the first 50 attendees receive an original Theresa Disney creation.
The Funhouse Gallery Presents: The Art of the Circus by Theresa Disney is open to the public and circus-themed nosh will be served. Afterwards, the Gallery will be open to the public by appointment and will continually rotate Disney's art for longtime and new fans and followers. Special, themed exhibits with installations are planned twice a year.
"The Funhouse Gallery is a place to re-introduce St. Louis to the creative genius of Theresa Disney and to provide a place for longtime fans to be surrounded by her work, browse, and purchase," said Zarren. "Fans and soon-to-be fans deserve an environment in which they can be immersed in Disney's alternate reality…The Funhouse Gallery is that space."
About Theresa Disney
A lifelong artist, Theresa Disney loves telling stories through her art. Well-known for her vivid colors and irreverent take on a wide variety of subject matter, Disney is inspired by geometry, narrative, and oblique story-telling. She works across media forms and temporality, time, and the denial or reversal of time are themes that are omnipresent in her work. From complex installations to three-dimensional paintings, Disney's work is complex, yet unpretentious. Her work has appeared in several national publications and received numerous awards. She has been featured in St. Louis Magazine, Country Home Magazine and in the Rare Visions Road Trip book. She was selected as an American Original by More Magazine and is revered in visual art and folk art circles nationwide.
About The Funhouse Gallery
Established in June 2014 by two Theresa Disney fans, The Funhouse Gallery serves as a place to showcase the range and depth of Disney's work. Ruthie Zarren and Mark Phillips invested in—and repurposed—a portion of Patti Gabriel's photography studio to give Disney's body of work a deserving habitat. The Funhouse Gallery opens to the public on Saturday, November 8, 2014 with Disney's circus-themed exhibit, The Art of the Circus. Post-grand opening, the Gallery will be open to the public by appointment and will continually rotate Disney's art for longtime and new fans and followers. Special, themed exhibits with installations are planned twice a year. All work exhibited in the Gallery is for sale; artwork ranges in price from $100 to thousands of dollars for collector pieces. For more, please visit http://www.thefunhousegallery.com, call 314-896-1FUN (386), or email thefunhousegallery(at)gmail(dot)com.