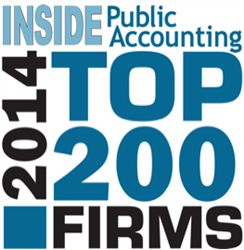 Towson, MD (PRWEB) October 21, 2014
"With more than 540 firms participating in the IPA annual Survey and Analysis of Firms this year, along with many CPA firm associations contributing to the search to identify the IPA 200, this prestigious group joins the IPA 100 as the definitive ranking of the nation's largest public accounting firms," says Kelly Platt, principal of The Platt Group, the publisher of IPA.
For the most recent fiscal year, IPA 200 firms range in size from $14 million to $31 million, and from 60 to 235 staff. These firms employee more than 12,000 staff across the nation, up 9% from last year.
"The IPA 200 averaged 5.4% top-line growth, and 6.2% growth in the bottom line," says Michael Platt, principal of the Platt Group.
"Similar to their IPA 100 peers, the IPA 200 are also engaged in acquisitions to grow in size, scope and capability, with 21 mergers reported for the group last year, pulling more than 200 staff and more than $22 million into the aggregate numbers of the group," says Kelly Platt.
Highlights of the IPA 200:
5.4% – Average revenue growth
6.2% – Average net income growth
13.1% – Average staff turnover
$76,657 – Average pay per professional staff
$443,502 – Average equity partner compensation
For the complete list of 2014 IPA 200 firms, go to: http://insidepublicaccounting.com/newsletters/ipa-100-and-ipa-200/
About KatzAbosch
Founded in 1969, KatzAbosch is one of the largest CPA and business consulting services in the Mid-Atlantic region. As a Maryland accounting firm, our mission is to provide the highest quality accounting, tax, financial and management consulting services to our regional clients. We understand the needs and challenges of our clients, and we have made it our obligation to create, grow and protect asset value. KatzAbosch is consistently named a Best Accounting Firm to Work For in Accounting Today and as one of the Top Workplaces in The Baltimore Sun. Our firm is also ranked among the Top 15 Largest Accounting Firms in the Baltimore Area by the Baltimore Business Journal.
About The Platt Group and INSIDE Public Accounting
INSIDE Public Accounting (IPA), founded in 1987, is published by The Platt Group. The Platt Group publishes both the award-winning INSIDE Public Accounting newsletter and the award-winning National Benchmarking Report. The Platt Group also advises, consults and helps firms move to a more successful level. With more than 26 years of independent reporting and more than 24 years of surveying and benchmarking experience, The Platt Group works with managing partners, CFOs and thought leaders across the nation to provide practical ideas, benchmarking data and information to take firms to the next level of improvement.
For copies of the 2014 IPA 200 Firms September issue of IPA, reprints and customized reprints, and pricing information, please contact Chelsea Page at (317) 733-1920; cpage(at)plattgroupllc(dot)com.
Benchmarking Information: http://insidepublicaccounting.com/survey/benchmarking-report/
Subscription Information:
http://insidepublicaccounting.com/wp-content/uploads/2014/08/Newsletter_Subscriber-Form_Aug2014.pdf