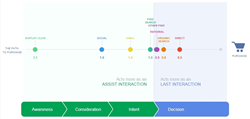 The multi-channel funnels and attribution modeling tools of Google Analytics indeed have helped a large number of companies in championing their online marketing campaigns.
Atlanta, Georgia (PRWEB) November 05, 2014
According to a recent analysis from Google Analytics (across all industries in the US), in general, a customer's online purchase decision has grown to be multi-faceted. The journey a customer has to go through before buying something online is affected by a number of media channels affecting brand identity. This calls for a better understanding of how to enhance online marketing programs. Below are the results of Google Analytics' report for Q4 2014 with interpretations and recommendations.
The Basics
There are several marketing channels affecting a customer's online purchase decision. A good online presence is a primer backed up by "assisting channels" and "last interaction channels". The so-called "assisting channels" help establish awareness, consideration, and intent. The last phase of the "purchase funnel" which is called the "last interaction channels" are the end points of contact before the actual online purchase. Based on the Q4 2014 report from Google Analytics, display clicks (with 3.1 ratio), social media marketing efforts (1.9 ratio), email marketing (1.4 ratio), and paid search (1.0 ratio) are all considered as the assisting channels. While referrals (0.9 ratio), organic search (0.8 ratio), and direct search (0.5 ratio) all act as the last interaction channels. In this respect, identifying the conversion paths and the sequences of interactions are all crucial in identifying how to go about improving the assisting channels so they'll be able to aid in completing sales. Google Analytics has the feature "Assisted Conversions report" which provide an analytics of the sales and conversions derived from each channel providing a good source of information on the value of each online marketing effort brings towards sales and conversions.
Customer Journey
The duration by which an online purchase is being made differs depending on the type of purchase a customer makes. Shorter lengths of a customer's journey usually result from a simple buying need. Normally, online purchases which take days, weeks, or months are a result of complex purchases or larger purchase values. Based on Google Analytics' report, total purchases by days is at 57%. Revenue-wise,47% of the total revenue coming from purchases made in more than one day, while 65% comes from purchases made in more than one step.
What's In It for Digital Marketers
Vitarank, a top-caliber digital marketing firm, highly understands the value of a customer's journey when it comes to online purchases. With the tough competition in the world of online marketing, a sole message, advertisement, or visual marketing tool does not generate a sale right away. Assessing all elements pivotal to online marketing campaigns are all important in identifying how much value we should put into each marketing channel. This is also where budget allocation to certain channels comes into place.
Benchmarking Tools
The multi-channel funnels and attribution modeling tools of Google Analytics indeed have helped a large number of companies in championing their online marketing campaigns. Deriving insights through the use of aggregate statistics are all useful in developing customized benchmarking tools for companies.
While there is no perfect formula for identifying customer's online behavior, making use of these benchmarking tools offered by Google Analytics helps in exploring the distinctive online buying behavior. No matter how long a customer's journey is when it comes to an online purchase, the first visit of the customer whichever channel is being used, must be carefully assessed up to the conversion phase. Vitarank has championed a number of marketing campaigns for its clients using the said tools. Gain phenomenal results. Make the most out of these wonder online tools.
About Vitarank
Vitarank has developed cutting edge SEO campaigns and providing results in highly competitive markets since 2009. With over 5,000 keywords ranked on page 1 of Google since its inception, Vitarank has been providing predictably positive results through the toughest and most competitive search engine landscapes in history.
With customers ranging from fortune 1000's, publishers, webmasters and super affiliates to large agencies who put their name on Vitarank's brand, customer satisfaction and on time results are Vitarank's only concern. Their on-time delivery guarantee ensures that its clients can hit deadlines and excel without micromanaging their SEO campaigns no matter what the company's size or volume of orders