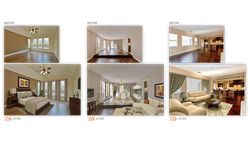 These are valuable visualizations that alleviate fears and help consumers connect emotionally with a listing.
Bountiful, UT (PRWEB) November 19, 2014
Obeo, the nation's leader in Real Estate Marketing technologies, announced this week that it had completely updated its virtual staging furniture collections.
Studies prove that staging helps homes sell faster and earn a higher price. Many real estate professionals have chosen to use virtual staging over traditional staging because of the huge savings in cost. Virtual staging can cost hundreds of dollars (even thousands) less than traditional staging and agents are able to avoid the hassle and potential dangers of moving furniture around a home.
Only about 10% of consumers actually have the ability to visualize the potential of a listing. The other 90% need visualization tools like virtual staging, to help them see what a listing might look like furnished. According to Marci James, the Director of Marketing for Obeo, "Agents only have about 3 seconds to capture the attention of online buyers, and it's almost impossible to do with photos of vacant rooms. Once you've captured their attention, it's important for real estate professionals to help potential buyers further visualize what a space could be. Show them where the couch might go, or that a king size bed will fit nicely in the bedroom. Let them see that the loft would make a perfect game room! These are valuable visualizations that alleviate fears and help consumers connect emotionally with a listing." To save any potential confusion, Obeo places a before and after photo into the listing's single property website, and clearly labels virtually staged images with "Virtually Staged".
When working with Obeo, agents may use their own high quality photographs, or choose to have Obeo photograph the listing. Next, agents will choose the furniture collection they want used. Obeo's newly released collection may be viewed here. Obeo's collection includes many warm and inviting looks that will appeal to a wide variety of potential buyers. Additionally, Obeo provides the agent with stunningly realistic high resolution photographs of the staged rooms, so agents can use these images in other online and print marketing.
Obeo also announced this week that it was reducing the cost of their virtual staging to $75 per image. This price reduction makes virtual staging an affordable marketing tool for listings of all price ranges. Even better, during the month of November, Obeo is offering an additional discount of %15 with promo code SMARTNOV. There has never been a better time for virtual staging.
About Obeo
As a leading innovator and provider of Real Estate marketing technology in North America, Obeo offers strategic solutions to real estate professionals looking to stand out from the rest. Obeo's marketing suite provides world class photography, virtual staging, mobile marketing, floorplans, extensive portal syndication, and lead generating social media marketing. Smart is saving MONEY with bundled tools. Smart is saving TIME with automation. Smart is using the best QUALITY technology available. Obeo is Smart Marketing. Delivered. http://www.obeo.com