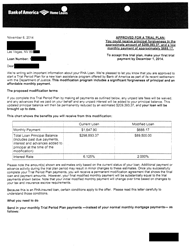 ...VA and FHA principal balance reductions do happen.
Las Vegas, Nevada (PRWEB) November 20, 2014
Peters and Associates is happy to announce that certain FHA and VA-backed mortgages can now qualify to have their principal balances lowered and interest rate fixed at 2% for the life of the loan. The new assistance program, immediately available to some homeowners whose mortgages are serviced by Bank of America and guaranteed by the FHA or VA, is designed to lower the mortgage balance-owed to 75% of the property's current market value. This drastic reduction in amount owed leaves the homeowner in a positive-equity position upon completion and acceptance of the modification terms.
Over the course of the last several years, Peters and Associates has helped thousands of Las Vegas Valley homeowners save millions of dollars by reducing interest rates and mortgage balances via their Loan Modification program. Unfortunately, FHA and VA loans were not eligible for principal reductions due to policy restrictions from the government and the large banks that serviced these loans. P and A clients are already seeing dramatic positive results from the new FHA/VA program.
In one instance, a client's FHA mortgage balance was reduced from $298,893.37 to $89,500.00. This represents a principal forgiveness of nearly $210,000. In addition, the loan's interest rate was lowered from 6.125% to 2.00% (fixed for the life of the loan). The overall effect of this modification means the monthly payment was reduced from $1647.90 per month to an affordable $688.17 per month.
VA loans serviced by Bank of America see the same type of results. An actual example VA-backed mortgage case shows a $184,483.28 principal reduction that lowered the $311,483.28 balance to $127,000. With the home worth nearly $170,000, this represents about $43,000 in instant equity for the formerly "underwater" homeowner.
"Our clients are thrilled," says Xenophon Peters, founding partner at Peters and Associates. "Results like these are what we fight for every day. In the past, we've had to tell FHA and VA clients that, 'currently the FHA/VA will only allow us to lower interest rates and payments, but we're hopeful that principal reductions will be available in the future.' Our hope has turned into reality and this new program lets us show those same people that VA and FHA principal balance reductions do happen. We've completed more than a half-dozen modifications under the new program in the first 10 days of the program's availability, representing more than a million dollars in FHA/VA principal forgiveness."
Because loan modification program requirements can be difficult and stressful to navigate, Peters and Associates recommends consulting with an attorney to determine eligibility for this new FHA/VA principal forgiveness program.
About Peters & Associates, LLP – Attorneys Xenophon Peters and Judah Zakalik founded The Law Firm of Peters and Associates in 2009 as a full service law firm in Las Vegas, Nevada. Since inception, the firm has successfully handled more than five thousand cases, focusing its efforts on great results and even better customer service. P and A was recently recognized as the "Fasted Growing Law Firm in Nevada" by Inc. Magazine and is BBB Accredited with an A+ Rating. Peters and Associates attorneys have been recognized as 2014 Top Lawyers by KNPR/Desert Companion Magazine, are A/V Rated, and received 2014 Client Satisfaction Awards from both the American Institute of Bankruptcy Attorneys and the American Institute of Personal Injury Attorneys.