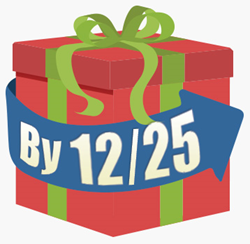 We've made numerous logistics improvements so that we may offer our customers all that's good in a holiday delivery experience
Kirkland, WA (PRWEB) November 25, 2014
The ATGStores.com "12/25 Delivery Guarantee," which offers customers a shipping guarantee backed by a credit reimbursement of 10% of the item value up to $100, aims to have all holiday orders delivered by Dec. 24, 2014.
The company is set to offer any customer who purchases items covered in the program an account credit if that order isn't delivered by Dec. 24, 2014. Once confirmed, the credit will disburse at the customer's request when they call the ATGStores.com Customer Service team at 1-888-500-9541 or contact the store via Live Chat.
The 12/25 Delivery Guarantee comes in addition to the company's Best Price Guarantee, no-hassle return policy and free shipping at any price within the continental U.S. just in time for shoppers to take advantage for Black Friday, Cyber Monday and beyond.
"Customers will receive the credit in addition to the order if a delay occurs, but our primary goal is to have a perfect delivery record this holiday season," said ATGStores.com Vice President of Operations Luke Goff. "We've made numerous logistics improvements so that we may offer our customers all that's good in a holiday delivery experience."
The guarantee applies to a wide selection of products with destinations within the continental U.S. and will be marked by a special "By 12/25" icon.
"This is a commitment we take very seriously," said Mr. Goff. "We've worked very hard with our vendors and our shipping partners to ensure our best holiday delivery service to date."
ATGStores.com, a Lowe's Company since 2011, specializes in home improvement and home furnishing products and has been serving its customers since 1999. The company features more than 3.5 million products in a host of different categories ranging from lighting and plumbing to furniture and hardware. Click here for more information and a detailed timeline on ATGStores.com.