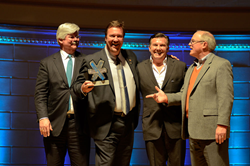 I don't fear running out of life... I fear running out of passion.
Nashville, Tenn. (PRWEB) December 05, 2014
Mark Cleveland, CEO of Hobby Express, has earned the 2014 NEXT Award for Entrepreneur of the Year. The award ceremony took place on Nov. 20 at War Memorial Auditorium in Nashville. The event honored Nashville's fast-growing, innovative companies and leading entrepreneurs.
"The applicants for this year's NEXT Awards can be viewed as a cross-section of Nashville's creative class," said Ralph Schulz, president and CEO, Nashville Area Chamber of Commerce. "The energy and innovation these people and companies bring to our local economy is an important part of Nashville's growth."
"I'm truly impressed by the knowledge these NEXT Award winners have brought to their companies and the generosity with which they help other entrepreneurs to make the same journey," said Michael Burcham, president and CEO, Nashville Entrepreneur Center. "Their ability to identify needs in the marketplace and build companies around solutions is truly impressive."
The NEXT Awards cited Mark's leadership of Swiftwick, a company he co-founded and served as CEO until mid October this year. At the same time, Mark has been guiding the future of Hobby Express, formerly Hobby Lobby International (the company sold the name in 2013). Hobby Express is a retailer of radio-control airplanes, helicopters, multi-rotor drones, boats and cars. Mark also made a name for himself with leadership success at SeaBridge Freight, a cross-gulf barge transportation company, and Truckload Management Inc., a transportation company.
"It's gratifying to be recognized as one of the leaders in Nashville's amazingly entrepreneurial environment," says Mark. "But none of my business success could have happened without talented and hard-working associates. It's been my great fortune to work with really good people."
"Mark's entrepreneurial vision gives Hobby Express an important advantage in our market," says Kurt Cleveland, president of Hobby Express. "Our associates know personally why he was chosen to receive this award—he deserves it."
"I don't fear running out of life," says Mark. "I fear running out of passion... What makes an entrepreneur successful, in my opinion, is a work ethic for pursuing your passion. I look for that same work ethic and passion in the people I associate with, like the people at Hobby Express. We inspire one another to be our best, and that drives success."
A full list of 2014 NEXT Award winners can be found at nextawardsnashville.com. For videos of the finalists and winners, visit youtube.com/nashvillechamber.
The 2014 NEXT Awards were hosted by the Nashville Area Chamber of Commerce and Nashville Entrepreneur Center, and presented by Bank of America. Additional sponsors include Pivotal Partners: Delek US Holdings, BlueCross BlueShield of Tennessee, Community Health Systems, First Tennessee and Ryan LLC; Friends of the Chamber: Bradley Arant Boult Cummings LLP and MissionPoint Health Partners; Associate Sponsors: Bandit Lites, KraftCPAs and Lipscomb University Center for Entrepreneurship; Supporting Sponsors: c3/consulting, Entrepreneurs' Organization and Southwest Airlines; Technology Partner: Atiba; and Media Partner: TN Media. For more information, visit http://www.nextawardsnashville.com.
About Hobby Express. For 50 years, Hobby Express has delivered the best model hobby products, including radio control airplanes, helicopters, and multi-rotor drones to customers all over the world. Hobby Express is the inventor and manufacturer of the Telemaster, a line of radio controlled airplanes that fly beautifully and are built with the perfect precision of laser cutting. Hobby Express also designs and manufactures top selling brands such as eRC motors, controllers, servos and kit airplanes, and the Pilot 1 line of vintage model airplanes. The company operates a distribution center in Brentwood, Tenn., and sells its products via catalog and online store. Besides top quality products at competitive prices, Hobby Express excels in technical support for hobby enthusiasts. To know more, visit http://hobbyexpress.com.
Photo: Steven C. Knapp of knapptimecreative