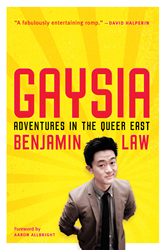 "Law blends an accessible journalistic style familiar to fans of travel writing with solid research and investigation into various queer cultures in the countries he visits."—Queer and Now
(PRWEB) December 10, 2014
Benjamin Law has won two Rainbow Awards for his travelogue Gaysia: Adventures in the Queer East (Cleis Press, 2014). Part memoir and travelogue and at once entertaining and moving, Gaysia is a wild ride and a fascinating quest by a leading Australian writer.
Gaysia won the Rainbow Award for Best Gay and Lesbian Nonfiction and Best Gay Book. The Awards Committee praised Gaysia for its skill, humor, sensitivity, and more, saying in part:
"I would award more points if I could. To be honest, this book vastly outshines all the other finalists in this category. More a combination travelogue / cultural study than memoir, this enlightening work should be read by every GLBT rights advocate in the world. I applaud the author for undertaking such an ambitious (and often unpleasant) project and for presenting his findings with sensitivity and casual grace."
About Gaysia:
Benjamin Law considers himself pretty lucky to live in Australia: he can hold his boyfriend's hand in public and lobby his politicians to recognize same-sex marriage. But as the child of immigrants, he's also curious about how different life might have been had he grown up in Asia. So he sets off to meet his fellow Gaysians. Law takes his investigative duties seriously, going nude where required in Balinese resorts, sitting backstage for hours with Thai ladyboy beauty contestants, and trying Indian yoga classes designed to cure his homosexuality. The characters he meets all teach him something new about being queer in Asia.
About Cleis Press
Cleis Press publishes provocative, intelligent books across genres. Whether literary fiction, human rights, mystery, romance, erotica, LGBTQ studies, sex guides, pulp fiction, or memoir, you know that if it's outside the ordinary, it's Cleis Press.