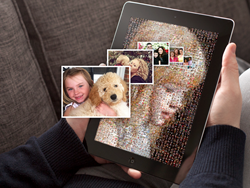 We're excited to allow consumers to take the reins and show their creativity.
Blue Bell, PA (PRWEB) December 23, 2014
Photo mosaic design studio Picture Mosaics reaffirms their status at the top of the class. The company has recently unveiled their free Online Photo Mosaic Tool, a web-based photo mosaic creation engine that allows anyone to create their own custom mosaic. Picture Mosaics is widely known for creating true mosaics using their innovative design techniques and advanced photo mosaic software.
The tool utilizes mosaic software developed by the Picture Mosaics team over the past 12 years. Free and easy to use, a valid email address or social network account is all that's needed to register. Users can upload 10,000+ photos from any computer, device, Facebook, Instagram, Google+, Flickr, or Dropbox account. Additionally, users can share and collaborate with others to create the perfect group photo mosaic. To ensure the security of their client's photos, Picture Mosaics uses the latest SSL 256-bit encryption and leading data protection methods.
The Online Mosaic Tool is perfect for sharing beautiful works of art with family and friends. Once the photo mosaic is complete, users can share a zoomable online version for friends to explore, download, or print. Each mosaic project has its own privacy settings for the user to set to their liking. In addition to its social sharing capabilities, the tool offers a variety of output choices: instant free digital proofs or full resolution downloads as well as premium poster (giclee) prints.
The Online Mosaic Tool features the same proprietary mosaic software that's built thousands of stunning photo mosaics; from people in need of the perfect gift to Fortune 500 Companies looking to bring together their fans or employees. Picture Mosaics president, Al Charpentier, says, "We're excited to allow consumers to take the reins and show their creativity. We're already working on version 2.0, which will give users even more capability and creative freedom."
Important note: The information in this article was supplied by Picture Mosaics to provide further insight into their Online Photo Mosaic Tool.