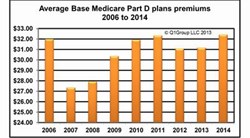 Saint Augustine, FL (PRWEB) August 27, 2013
Q1Medicare.com now provides seniors and other Medicare beneficiaries with additional insights into their upcoming 2014 Medicare Part D prescription drug plan coverage.
Based on information recently released from the Department of Health and Human Services (HHS), seniors can expect to pay slightly higher monthly Medicare Part D prescription drug plan premiums in 2014. The 2014 Medicare Part D base beneficiary premium is increasing to $32.42 as compared to a 2013 base premium of $31.17.
"Although the 2014 Medicare Part D base beneficiary premium is only increasing slightly over the current 2013 base beneficiary premium, seniors should not expect that their current 2013 Medicare Part D plan premium will stay the same or also increase only slightly," cautions Dr. Susan Johnson, Technical Director of the Q1Medicare.com site and co-founder of Q1Group LLC. "Rather, the stability of the 2014 average premium only suggests that seniors should be able to shop around and find another 2014 Medicare prescription drug plan or Medicare Advantage plan with about the same monthly premium as they now pay."
Because of the increase in the 2014 Medicare Part D base beneficiary premium, Medicare beneficiaries who have accrued a late-enrollment penalty will also notice an increase in their 2014 monthly penalty payment.
The late-enrollment premium penalty is assessed to any Medicare beneficiary who is without some form of creditable prescription coverage for more than 63 days and does not qualify for the low-income subsidy. The penalty is calculated as an additional monthly payment of 1% of the annual base Medicare Part D premium accumulated for each month that a person is without prescription coverage.
For example, a person who has been without creditable prescription coverage for five years (or 60 months) will pay a 2014 monthly penalty of $19.45 or 60% of the 2014 base premium of $32.42 – about 4% more than the 2013 penalty payment. Annual changes in the base premium used to calculate the late-enrollment penalty can be found at: Q1Medicare.com/LEP.
Medicare beneficiaries in higher annual income brackets will also see an increase in their Income-Related Monthly Adjustment Amounts (or IRMAA) paid in addition to their monthly 2014 plan premiums. For example, the IRMAA payments for single people with an income between $85,000 and $107,000 or married couples with an income between $170,000 and $214,000 will see an increase of 4.31% as their IRMAA increases to $12.10 per month in 2014, up from $11.60 per month in 2013. More information on the 2014 IRMAA payments can be found at: Q1Medicare.com/IRMAA2014 including a chart showing changes in past years.
Along with the base beneficiary premium, Medicare also released the low-income subsidy (LIS) benchmark premiums for the 34 Medicare Part D prescription drug plan regions. Each of the 34 stand-alone prescription drug plan regions sets an annual premium benchmark and, in general, drug plans with premiums under this benchmark qualify for the LIS (or Extra Help) $0 monthly premium. For the 2014 plan year, only 3 regions will increase their benchmark premiums and 31 regions will see benchmark decreases. A complete list of the 2014 LIS premium benchmarks with a comparison to past years can be found online at: Q1Medicare.com/LISBenchmark.
The 2014 annual Open Enrollment Period will begin on Tuesday, October 15, 2013 and continue through Saturday, December 7, 2013 with Medicare plan coverage beginning on Wednesday, January 1, 2014. The details of the 2014 Medicare Part D and Medicare Advantage plans should be available in late-September or early-October and Q1Medicare.com now offers a free email 2014 reminder service to keep Medicare beneficiaries informed as the 2014 Medicare plan information becomes available. Sign-up for the reminder services is available at: Q1Medicare.com/RemindMe.
About the Q1Medicare.com Website
Q1Medicare.com is one of the largest independent online resources for Medicare Part D prescription drug plan and Medicare Advantage plan information. Q1Medicare offers a large selection of Frequently Asked Questions, online tools, Medicare Part D blog, and a free Medicare Part D Newsletter all designed to help Medicare beneficiaries, healthcare professionals, advocates, advisers, caregivers, and insurance agents better understand both the Medicare Part D prescription drug and Medicare Advantage programs. Q1Medicare.com is operated by Q1Group LLC (Saint Augustine, Florida).