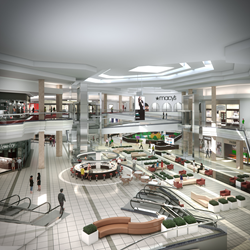 SCHAUMBURG, Ill. (PRWEB) January 20, 2015
Simon (NYSE: SPG), a global leader in retail real estate, announced today new design enhancements for Woodfield Mall, one of the largest shopping destinations in the United States with nearly 300 retail, dining and entertainment options. Starting this month, Woodfield Mall will create an even better shopping experience with the transformation of its Grand Court, plus a variety of design and comfort upgrades.
This style evolution will include a contemporary and streamlined facelift of the Grand Court with new glass railings and ceramic flooring. It will become easier to navigate the various elevations of the mall with the addition of a new large capacity elevator and two escalators, as well as the replacement of two existing elevators. Also, there will be aesthetically appealing cosmetic finishes throughout the property such as new carpet on the upper level, plush seating areas and improved interior and exterior directional signage.
"Woodfield Mall is committed to providing local residents and Chicagoland visitors with the best possible shopping experience," said David Gott, general manager at Woodfield Mall. "This exciting development will greatly improve traffic flow through the Grand Court and provide our fashion-forward guests with a warm and comfortable environment to shop, dine and play."
All work will be completed with minimal interference for shoppers. Construction is scheduled to be completed during late 2015.
"The Village of Schaumburg has experienced tremendous growth in recent years and Woodfield Mall has been a strong presence in that evolution," said Al Larson, Village president, Village of Schaumburg. "Simon's commitment to the region is a strong economic indicator and signals a high level of consumer and development confidence in our beautiful village."
In 2014, Woodfield Mall experienced a retail boom as the center welcomed more than a dozen new retail and dining options, including lululemon athletica, Columbia Sportswear, White Barn Candle Company, Arhaus, Sperry Top-Sider, Ecco, Tilly's, Dunkin' Donuts and more. New retailers will be announced as the project progresses.
For more information, visit http://www.shopwoodfield.com or call (847) 330-1537. Like us on Facebook at http://www.facebook.com/woodfieldmall and follow us on Twitter @WoodfieldMall and on Instagram @WoodfieldMall.