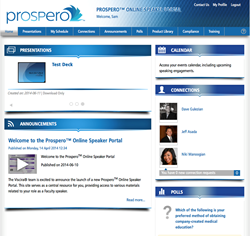 We are excited to further expand the capabilities of our Prospero Online Speaker Portal solution for our customers.
San Francsico, CA (PRWEB) January 28, 2015
Viscira, a leading provider of interactive, new-media communication solutions and software products for the life sciences industry, today announced the release of Version 4.0 of its Prospero™ Online Speaker Portal (OSP) for life science clients. This industry-leading, secure, web-based software platform serves as a robust communication hub for pharmaceutical product speakers, allowing them to easily access all the resources and tools needed to make their peer-to-peer, educational presentations effective and engaging.
A key component of Prospero is Viscira's Interactive Presentation Builder tool, which provides users with the ability to create and save custom presentations, subject to medical and regulatory restrictions, through an intuitive, drag-and-drop interface.
Some of the key features included within the upgraded application are summarized below:

Improved speed and performance, including faster login, downloading and presentation of content, and building and saving of custom speakers presentations
A new, updated user interface which further simplifies the display of information and enables users to find the content they are seeking even more quickly
An innovative, shortcut feature called QuickDeck™ that allows speakers to create and save a custom presentation in three easy steps
Improved help features and context-based instructional tips throughout the site
Enhanced mobile options for tablet users on devices like the iPad, including the ability to easily save their presentations to their Microsoft OneDrive accounts
Additionally, the Prospero™ OSP includes unique social networking capabilities that promote communication and collaboration between users, enabling clients to build a stronger community of quality speakers for a product and deepen relationships with physician opinion leaders.
"We are excited to further expand the capabilities of our Prospero Online Speaker Portal solution for our customers," explains Nat Fast, Vice President - Software Development of Viscira. "Our OSP is a highly flexible, expandable platform that we will continue to enhance to meet evolving client needs. This new release of Prospero truly capitalizes on our extensive experience in this area with major speaker bureaus across the industry."
Customer adoption of Prospero continues to be strong as the user base has grown 183% over the last two years. The platform can be completely customized to meet companies' specific workflow needs and business requirements on an enterprise-wide, therapeutic area or single product basis. To schedule a demonstration, please contact the company at 415-848-8010 or send an email to sales(at)viscira(dot)com.
The Prospero Online Speaker Portal is just one of many new-media solutions and software products the company offers, which range from Viscira's 3D mechanism-of-action (MOA) animations to interactive medical case study programs to high-impact sales and educational applications for the iPad.
About Viscira
Viscira is dedicated to the design and development of new-media communication solutions and interactive software applications for the life sciences industry. Viscira provides a suite of programs that integrate best-in-class technology to deliver engaging and memorable content via various electronic channels. For more information, please visit the company's website at http://www.viscira.com or contact Noёl Ashekian at (617) 429-0834.