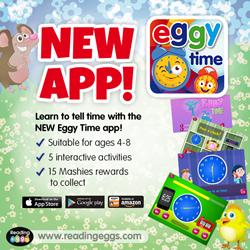 (PRWEB) March 05, 2015
The creators of Reading Eggs, the multi-award winning online reading program for kids, has launched its brand new educational math app for the iPad, iPhone, iPod touch, Kindle and Android.
Suitable for children aged 4-8, Eggy Time features highly interactive activities and vibrant animations to teach young children how to tell time.
With over 30 years of experience, the educational publishers of Reading Eggs and other popular kids learning websites such as Mathseeds, have developed the new Eggy Time app to include a range of fun and entertaining game elements, providing a unique and motivating way for children to learn and practice telling the time.
The app builds and reinforces time telling skills using 5 highly interactive games. Children set hands and numbers on different clocks, read and match times including o'clock times, half and quarter hours, and explore time estimation.
Each activity includes 3 difficulty levels to complete so that children can improve their skills and understanding of essential early time telling concepts.
The app features colorful visuals, catchy music, fun sound effects, and a collection of 15 'Mashies' rewards to keep children motivated while they learn.
Eggy Time is available to download on the Apple App Store, Google Play or on Amazon. To learn more about Eggy Time, please visit http://readingeggs.com/apps/eggy-time/.
About Reading Eggs
Developed by educators with over 30 years of experience, Reading Eggs online lessons instruct children in the five areas crucial to literacy development – phonemic awareness, phonics, vocabulary, fluency and comprehension. Reading Eggs focuses on a core reading curriculum of skills and strategies essential for sustained reading success and is suitable for children aged 3 through 13. There are currently 1.4 million children using the Reading Eggs program in the United States.