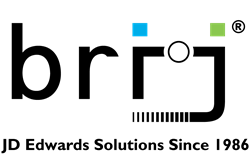 Our goal of the partnership is to provide the marketplace with a lower cost alternative to the high price point to hire Oracle's JD Edwards talent.
Greensboro, NC (PRWEB) March 06, 2015
brij, a long-time Oracle's JD Edwards reseller and Gold level member of Oracle PartnerNetwork (OPN), has just announced the expansion of its brij University brand through a partnership with a local university's business school. Through this partnership, brij University will provide training and mentoring on JD Edwards enterprise software to students with majors in the fields of Supply Chain Management and Information Systems and Operations Management.
The 3-month training and mentoring program will focus on two learning paths, JD Edwards EnterpriseOne Distribution and JD Edwards EnterpriseOne Developer. The core curriculum for both learning paths will cover fundamentals and base concepts of the software. Additionally, each learning path will offer the students more in-depth courses specific to their area of study.
Upon graduation from the program, brij will provide job placement services to each candidate. Successful candidates will also be partnered with a senior level mentor to provide continue supporting as they enter the work force.
According to Martin Green, President of brij, "Our goal of the partnership is to provide the marketplace with a lower cost alternative to the high price point to hire Oracle's JD Edwards talent. Our clients demand high quality resources at competitive rates. Not only will brij University train these students on Oracle's JD Edwards software, but we will provide them with a senior level mentor to make sure they are successful. That is a win-win for the students and our clients."
For additional information on brij University, please visit http://www.brij.net or contact us at info(at)brij(dot)net.
About brij:
As one of the longest serving Certified Oracle ERP reseller and implementation partners in the United States, brij has been providing in-depth technical and application sales, consulting, upgrade support services and project management since 1986.
With hundreds of clients, brij has helped transform mid-sized and fast growing business across the United States, while consistently delivering on time, on-budget projects. Our goal is to increase client self-sufficiency and long term value. To learn more about brij, visit http://www.brij.net.
About Oracle PartnerNetwork
Oracle PartnerNetwork (OPN) Specialized is the latest version of Oracle's partner program that provides partners with tools to better develop, sell and implement Oracle solutions. OPN Specialized offers resources to train and support specialized knowledge of Oracle products and solutions and has evolved to recognize Oracle's growing product portfolio, partner base and business opportunity. Key to the latest enhancements to OPN is the ability for partners to differentiate through Specializations. Specializations are achieved through competency development, business results, expertise and proven success. To find out more visit http://www.oracle.com/partners.
###
Trademarks
Oracle and Java are registered trademarks of Oracle and/or its affiliates.