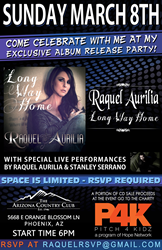 It's been an amazing journey writing this album and I'm honored to be hosting the album release party for 'Long Way Home' in my hometown of Phoenix
PHOENIX, AZ (PRWEB) March 05, 2015
Scottsdale celebrity and recording artist Raquel Aurilia will host an album release party for her new album, "Long Way Home" on Sunday, March 8, 2015 from 6pm-9pm at the Arizona Country Club in Phoenix. Celebrities and MLB players will be in attendance including Russ Ortiz and Ron Villone mixing with friends and VIPs including former NFL Cleveland Browns linebacker Mason Unck, and the Cowboy Lifestyle Network. Cox TV's J.R. Cardenas and his television show "Su Vida" will be taping from the party. The event will feature special live musical performances by Raquel Aurilia with special guest artist Stanley Serrano. A portion of the CD album proceeds at the event will benefit charity Pitch 4 Kidz – a program of Hope Network.
"It's been an amazing journey writing this album and I'm honored to be hosting the album release party for 'Long Way Home' in my hometown of Phoenix," says singer-songwriter Raquel Aurilia. "I'm so proud of these songs and this album that producer Billy Smiley and I have created, and definitely want to celebrate it!"
Recording Artist Raquel Aurilia is an accomplished singer-songwriter who has toured opening for John Waite, B.B. King, Gin Blossoms, Eddie Money, Riders in the Sky and Pat Benatar... Plus, Raquel has worked with Grammy Award winning producer Tony Papa (James Brown, Willie Nelson, John Denver) and Gardner Cole (Madonna, Jodi Whatley), as well as Grammy nominated producer Billy Smiley (Johnny Cash, Bebe and Cece Winans) on her new album, "Long Way Home".
"Long Way Home" was recorded in Nashville with Producer Billy Smiley. It is Aurilia's third album highlighting her authentic, powerful talent as a storyteller. It offers a Country/Pop style and features some of Nashville's top studio musicians including: Steve Brewster (drums), Ken Lewis (drums), Byron House (upright bass), Brennan Smiley (guitars), Blair Masters (keyboards), Sal Oliveri (keyboards), and Andy Leftwich (violin) who have recorded with icons such as Kenny Rogers, Garth Brooks, Brett Eldridge, Amy Grant, Dierks Bentley, Peter Frampton, Robert Plant, Emmylou Harris, and Dolly Parton.
"Long Way Home" offers an authentic next chapter for Raquel Aurilia with her heartfelt original self-penned songs including: Shattered; Little Things I Love; Reach for the Stars; and the title track Long Way Home.
Aurilia's music has been featured on MTV's hit series "The Hills," "The City" and "Taking the Stage." Her hit single "Feels Like" from her debut record, "Finding My Way," cracked the ultra-competitive R&R Top 30 AC and Billboard Hot Adult Contemporary charts at #28, and is still receiving national air play today.
Musicians on "Long Way Home" include:
Raquel Aurilia, Lead Vocals
Drums: Steve Brewster, Ken Lewis
Acoustic Guitars: Billy Smiley, Scott Dente
Bass: Matt Pierson, Anthony Sallee
Upright Bass: Byron House
Electric Guitar: Brennan Smiley, George Cocchini
Keyboards: Blair Masters, Sal Oliveri, and Billy Smiley
Violin: Andy Leftwich
Background Vocals: Raquel Aurilia, Billy Smiley, and Michelle Swift
Weblinks: http://www.RaquelAurilia.com / http://www.twitter.com/raquelaurilia / http://www.instagram.com/raquelaurilia / https://www.facebook.com/pages/Raquel-Aurilia/38969108047 /
While the party is an invitation-only event, members of the media are welcome to cover the event by sending an RSVP request to Publicist Liz Motley at LizMotley(at)me(dot)com.
###