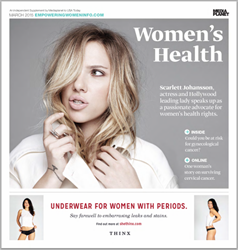 "Women understand where there are holes in the system that is meant to represent them, they know how and where they need more support from their own experiences and by sharing and sympathizing with the women closest to them."
New York, NY (PRWEB) March 06, 2015
Mediaplanet today announces distribution of its latest cross-platform edition of "Women's Health," a campaign that seeks to educate, encourage, and inspire women to take a more proactive role when it comes to their health and their health care rights. With gynecological cancer and infertility on the rise, it has never been more pertinent to prioritize well-woman exams and stand up for women's health rights.
The print component of "Women's Health" is distributed within this weekend's edition of USA Today in New York, Chicago, Los Angeles, Denver, Washington / Baltimore, Philadelphia, and San Francisco with a circulation of approximately 450,000 copies and an estimated readership of 1.3 million. The digital component is distributed nationally through a vast social media strategy and across a network of top news sites and partner outlets. To explore the digital version of the campaign, click here.
In an exclusive interview with award-winning actress and advocate Scarlett Johansson, women are encouraged to get regular exams and to fight for their health rights. Johansson stresses, "Women understand where there are holes in the system that is meant to represent them, they know how and where they need more support from their own experiences and by sharing and sympathizing with the women closest to them."
This campaign was made possible with the support of Qiagen, Ovarian Cancer National Alliance, Stand Up To Cancer, Myriad Genetics, Helomics, Planned Parenthood, Scarlett Johansson, National Cervical Cancer Coalition, Cancer Treatment Centers of America, Thinx, RMA of New Jersey, RESOLVE, LifeAire, Valisia LeKae, and many more.
About Mediaplanet
Mediaplanet is the leading independent publisher of content-marketing campaigns covering a variety of topics and industries. We turn consumer interest into action by providing readers with motivational editorial, pairing it with relevant advertisers, and distributing it within top newspapers and online platforms around the world.
Press Contact:
Kelsey MacArthur
kelsey(dot)macarthur(at)mediaplanet(dot)com
646-922-1404