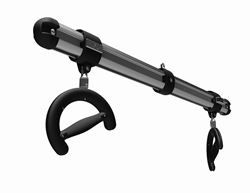 This nomination recognizes the passion that goes into our products.
Freeport, New York (PRWEB) March 26, 2015
Trak Fitness LLC, a leader in functionally advanced fitness equipment, is pleased to announce that its TrakBar Pro-X cable attachment / pull-up bar has been nominated for the 2015 FIBO Innovation Award.
The FIBO Innovation Award is the most prestigious award in the fitness industry. For 16 years, FIBO, the largest international trade show in the fitness and wellness industry, has presented the Innovation Award to the world's most inventive fitness products. The TrakBar Pro-X is one of three products selected for the "Training Equipment" category from a total of 70 participating products.
The TrakBar Pro-X is the first and only cable attachment / pull-up bar that includes multi-axis handles which travel along the length of the bar and automatically adjust to the user's natural hand, arm and shoulder movements. With unrestricted mobility, users can perform a wide range of new rotational cable pull and pull-up exercises that are not possible with any other exercise equipment.
The handles can be locked in any position along the length of the bar with a single switch. So a single TrakBar Pro-X provides more functionality than every other cable attachment and pull-up bar combined. Users can improve the efficiency and effectiveness of workouts by performing an unlimited range of exercises in succession without changing attachments or releasing their grip.
"We are honored to be nominated for this prestigious award." said David Kristiansen, President of Trak Fitness LLC. "Our company's mission is to provide truly innovative equipment to help our customers excel in their fitness goals. This nomination recognizes the passion that goes into our products."
The TrakBar Pro-X will be exhibited in Hall 7, Stand B20 by Scotfit GmbH, which is the exclusive distributor for Trak Fitness equipment in Germany. It will also be exhibited at the Forum in Hall 9 along with the other Innovation Award nominees. Trak Fitness extends its gratitude to Jimmy Andrews and his team at Scotfit Gmbh for their leading role in presenting the TrakBar Pro-X for consideration.
About Trak Fitness LLC
Trak Fitness LLC is revolutionizing the fitness industry with state-of-the-art, functionally advanced and ergonomically correct fitness equipment. Its patent pending TrakBar Pro-X, and patented TrakHandle Sport and TrakHandle Pro lines of cable accessories are the only attachments available that allow three-dimensional multi-plane movements so that users can train more effectively and efficiently, while minimizing potential stress and injury to joints, and ligaments. Trak Fitness LLC designs all of its products to work in harmony with the natural movements of the human body in order to improve performance, safety and results.