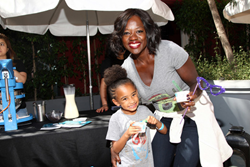 Los Angeles, CA (PRWEB) March 30, 2015
GBK (gbkproductions.com) - the celebrity gift lounge and special events company, and the popular teen entertainment magazine Tiger Beat Magazine / BOP Magazine, hosted their gifting event on March 26th and 27th at the whimsical Redbury Hollywood. The event was attended by dozens of celebrities from the nominated categories of over the courses of two days. As guests kept busy visiting and collecting gifts from an eclectic mix of trendy sponsors, they nibbled on gourmet food and grooved to the tunes of DJ Shy.
Presenting Sponsor, STOP-ATTACK.com, partnered with GBK to bring some awareness to the event. STOP-ATTACK.com is an assault-response application (app) and service for IOS and Android mobile devices. Designed to be easy to use, quick to activate and reliable, the app is an invaluable personal protection resource. Tap ... record, get help, take control.
On the fashion front, guests received: HEELYS - Heelys wheeled footwear is a patented dual-purpose footwear that incorporates a stealth, removable wheel in the heel, allowing the user to seamlessly transition from walking or running to rolling by shifting weight to the heel; custom official team jackets from MLB, NBA, NHL, or NASCAR compliments of JH Design Group; 100% soft cotton blend jersey, classic "M Face Tee", from M The Movement, an eco friendly, humanitarian designer collection for today's modern human; and Steezys - the hot new accessory that's sweeping the nation and styling boring headphone and earbud wires with some easy clip-on Steezys charms.
Toys and gadgets were a true highlight of the lounge, featuring gifts from Audiopark, providing their Audiowrap - the first wearable designer monitor boldly merging traits of art, materials and technology to create unique wearable experience of an affordable jewelry headphone; gift certificates for a wide selection of DVDs from CouchPotato.com; Battroborg Teenage Mutant Ninja Turtles gifts, the ultimate battling robot experience from Tomy; and LeapBand, the new activity tracker for kids from LeapFrog.
Event highlights included a fun twist to the traditional photobooth experience by Action Flipbooks where guests create a seven second video in front of a digital green screen and in less then two minutes turns that video into a 60 page ANIMATED flipbook; treats from Ice Cream Lab, LA's first liquid nitrogen ice cream parlor specializing in made to order ice cream using all natural and organic ingredients; and refreshments from Sabra including their salsa, dairy dips, guacamole, and award winning hummus.
Guests also received gift certificates for resorts throughout Mexico and Jamaica, compliments of Caribbean Living Magazine and 3 personal training sessions with Celebrity Trainer Lalo Fuentes.
The event also featured Share Your Heart Foundation, which was created by women with desires to achieve success as small business owners. They want to encourage and help others follow their Hearts, Dreams and Achieve Greatness. For more information about Share Your Heart Foundation, please visit http://2shareyourheart.wix.com/share-your-heart
ABOUT GBK
GBK, formerly GBK Productions, is a luxury lifestyle gifting and special events company, specializing in entertainment marketing integration. Formed in 2000 by Gavin Keilly, the company's Founder and CEO, GBK consists of five divisions: GBK Celebrity Gifting, GBK Special Events, GBK Weddings, GBK Charitable Consulting and GBK Marketing/Public Relations. Widely known in the entertainment industry for bringing that little extra something into the Gifting Lounge environment, GBK offers its clients a full range of marketing services. For more information on Gavin B. Keilly (CEO), Carla Domen (VP) or GBK, please go to gbkproductions.com.
###