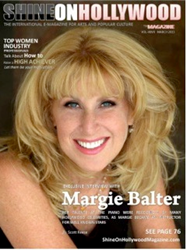 "To be acknowledged as one of the 2015 Top Women in Entertainment – at a time when I feel my creativity and all the new projects I'm working on are taking me into the next chapter – is an amazing honor for which I'm very grateful."
Los Angeles, CA (PRWEB) April 01, 2015
"Shine on Hollywood" Magazine has chosen pianist, composer, actress and "Piano Teacher to the Stars" Margie Balter as one of the "2015 Top Women Entertainment Industry Professionals," it was recently announced. Balter was chosen because of her stellar career and the profound, positive impact her talent, inspiration and drive makes on the people with whom she works, as well as on the entertainment industry as a whole, and beyond.
"As an educator, the motivation I get comes from unlocking the potential of my students, and their growth inspires me every day," said Balter. "As an entertainer, the motivation I get comes from the way music or a performance can touch and inspire someone in the audience. I sense this immediately. To be acknowledged as one of the 2015 Top Women Entertainment Industry Professionals – at a time when I feel my creativity and all the new projects I'm working on are taking me into the next chapter – is an amazing honor for which I'm very grateful."
Balter, a native of Pittsburgh, PA, was dubbed "Piano Teacher to the Stars" after teaching Tom Cruise, Sandra Bullock, Scarlett Johannson, Jack Black and many others to play the piano for various movie roles. That part of her career began when she prepared Holly Hunter for her Academy Award-winning performance in "The Piano." Balter's own compositions have been featured in hit and iconic movies and television shows, including "Date Night" starring Tina Fey and Steve Carrell, "Beauty Shop" with Queen Latifah, and "Scandal" starring Kerry Washington, to name a few. She also is an Advisory Board member for the international Playing for Change Foundation, which builds and funds music programs for children in third world countries and in the U.S. To purchase Balter's music and her award-winning CD "Music from My Heart: Solo Piano Pieces by Margie Balter," visit http://www.itunes.com or Amazon at http://www.amazon.com/s/ref=nb_sb_noss_1/179-2289463-5367411?url=search-alias%3Daps&field-keywords=MARGIE+BALTER
For more information about Margie Balter and to follow her blog about inspiration, visit http://www.margiebalter.com. To read the full article in "Shine On Hollywood" Magazine, visit http://bit.ly/1BJGaZ7.