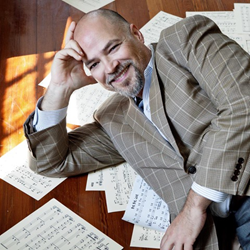 "Steinway has always given me that spiritual place to flourish when I'm creating my music, as I seek to inspire and heal through music."
New Orleans, Louisiana (PRWEB) April 12, 2015
On Sunday, April 19th, in celebration of being named a Steinway Artist, Matt Lemmler will perform two programs of music honoring beloved Steinway Artists as well as offering his own versions of popular hymns. The event will be held at Louisiana's largest recording studio, Esplanade Studios (2540 Esplanade Avenue, New Orleans), with performances at 3:00pm and 5:00pm. The programs will be recorded, resulting in the production of two albums that will be available to the public at a later date.
Tickets for each performance of "Matt Lemmler Live at Esplanade Studios" range from $20 for general admission to $50 (includes signed CD's from the performance). There is also an Executive Producer's package for $500 that includes general admission, "executive producer" status on the CD, plus a complimentary in-home concert by Matt Lemmler on a Steinway & Sons piano provided by Hall Piano Company. Tickets are available at http://www.hallpiano.com/matt-at-esplanade.
Lemmler stated, "I continue to be filled with awe as I envision the world's greatest composers, pianists, arrangers, and conductors birthing America's greatest classical and jazz music through wonderful Steinway instruments – instruments created to channel music from the heavens through the spirits behind the keys. Steinway has always given me that spiritual place to flourish when I'm creating my music, as I seek to inspire and heal through music."
For decades Steinway & Sons has cultivated special relationships with pianists from every genre. From classical pianists like Lang Lang, to jazz stars like Diana Krall, to pop icons like Billy Joel, to "immortals" like Irving Berlin, Cole Porter, Sergei Rachmaninoff, and Arthur Rubinstein — more than 1,600 artists have made the Steinway their own.
Hall Piano Company, South Louisiana's premier Steinway dealer, and the Steinway Society of New Orleans have been actively supporting Lemmler's goal of becoming a Steinway Artist. Steve Kinchen, co-owner of Hall Piano Company, said, "Matt is an accomplished jazz pianist, vocalist, arranger, producer and educator with a career spanning more than 30 years, whose musicianship has been praised by prestigious publications and critics both nationally and internationally."
Since 1958 Hall Piano Company has served families across south Louisiana and Mississippi. As South Louisiana's premier Steinway & Sons dealer, their services include piano rentals and sales, acoustic and digital piano sales, piano lessons and method books.
For additional information about "Matt Lemmler Live at the Esplanade Studios", contact Emily McWilliams at emilym(at)hallpiano(dot)com or call 504.733.TUNE.