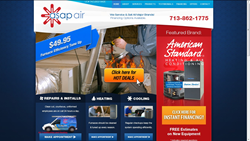 If you are facing problems with your air conditioner, our professional and experienced team is there to help you out.
(PRWEB) June 05, 2015
Located in Houston, ASAP Air Conditioning and Heating is an award winning AC & Heating service company. The leading company is a family owned and operated heating and air conditioning contractor, big enough to provide unbeatable service. They are a team of highly qualified and experienced AC service technicians ready to diagnose, adjust, repair or replace the residential or commercial system. Currently, they are offering up to $40 off on air conditioner repair.
One of the executives from ASAP Air Conditioning and Heating was available for a comment, "If you are facing problems with your air conditioner, our professional and experienced team is there to help you out. If you face any issues with your residential air conditioner, you can rely on us. Our team will come on site to diagnose the problem and devise methods to cure the issue encountered. All of our technicians are factory-trained and certified, and we perform a thorough background check on each employee."
There are various common problems that an air conditioner encounters which ultimately calls for repairs. The most common of them is the issue of low refrigerant where if the user is running low on Freon, this means that they have a leak of some type. Second is when the fan motor stops turning or runs too long without the fan, which can lead up to burning the compressor. The other problem is when the outside unit stops running that requires careful troubleshooting by a factory trained specialist. The most common issue can be wiring or frozen coil. Frozen coil is caused due to running out on refrigerant or blockage down the duct. Another most common cause is lack of consistent changing of air filters inside the home.
Another executive added, "Our goal is to deliver award winning A/C and Heating service at an affordable rate, be it be repairs or air conditioning replacement. We are an American Standard Authorized Dealer providing services at cost-effective rates. We accept cash, check and debit/credit cards. 100 % financing is also available with approved credit by Wells Fargo Financial National Bank."
ASAP Air Conditioning and Heating provides leading air conditioning service Houston TX. Apart from this they also provide instalment and repair services for HVAC systems & deal in all major brands of AC, air handlers, gas furnaces, evaporator coils, conditioner units, and comfort control systems.
About ASAP AIR Air Conditioning and Heating
ASAP AIR Air Conditioning and Heating is a leading company that provides excellent air conditioning services Houston TX. The company also offers services such as heating furnace repair, heating furnace management, AC installation, AC maintenance, and major repairs. They have factory trained and certified technicians. If one is looking for installation or repairs for air conditioning in Houston Texas this is the place to be at.
Contact Information:
ASAP AIR AC and Heating
1009, Aurora Street
Houston, TX-77009
713- 862 -1775
Email: info@aspair.com
Website: http://www.asapair.com
# # #