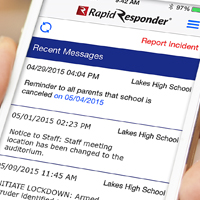 Our apps allow for registered users to report possible problems to administrators with the hopes of heading off serious incidents sooner.
Kirkland, WA (PRWEB) June 16, 2015
The newest add-on to the popular emergency preparedness and crisis management system, Rapid Responder®, has recently launched. They call it Rapid Responder Notify. Notify is a new cutting edge external mass notification system that surpasses industry leading technology and is a necessary tool for emergency preparedness & crisis management in a variety of settings including schools, healthcare facilities and places of worship. The two-way communication system allows system administrators to instantly send out mass notifications as well as allowing app users to report incidents to designated personnel, further enhancing the system's ability to create a cohesive response during any emergency.
"In listening to our users we built a system that allows for timely notifications to be sent to users whether for crisis or general public information. In addition, our apps allow for registered users to report possible problems to administrators with the hopes of heading off serious incidents sooner," says Larry Lowry, Director of Development for Prepared Response, Inc. "With the service integrated in the Rapid Responder system we hope to provide even more integration with our ICS and Easy Alert features in the future."
The innovation of the two way notification system by Prepared Response, Inc. provides another tool for their customers to increase their safety and security. Instead of using a separate system that doesn't integrate with Rapid Responder and adds additional charges, Rapid Responder users utilize notify to communicate to their stakeholders of closures, shootings, accidents, or weather related problems, all at no additional charge. Schools, healthcare facilities and places of worship have a whole new measure of security by allowing their stakeholders to report incidents that could potentially be dangerous. The ability to both receive notifications and send alerts to designated administrators through Rapid Responder Notify adds another layer of security to those places that are protected by Rapid Responder.
"We are pleased to be able to offer a fully integrated notification solution to our Rapid Responder system for our customers at no additional charge." said Jim Finnell, Chief Executive Officer of Prepared Response, Inc. "Incident management and rapid communication can be managed end to end – from first responders to families, staff, students and even guests."
Rapid Responder Notify is fully managed on the administrative interface of Rapid Responder and is configured by the end users who will create subscription groups based on the intended message. To receive the mass notifications, subscribers can self-enroll via the sign-up URL or through the app, which is available to iOS and Android users. Subscribers to the mass notification system can include members of a congregation, students, parents, staff, residents, etc. Those with access to the Administrative Interface of Rapid Responder will be able to access the incident alerts through Rapid Responder, as well as be alerted via email or text.
Rapid Responder is SAFETY Act certified by the U.S. Department of Homeland Security and puts critical building and site information at the fingertips of first responders, saving valuable time when every second counts. The system can be accessed via the internet, installed on a laptop, stored encrypted on a USB drive, and/or iPad App. The emergency response and crisis management system has been used successfully in active shooter situations, bomb threats, lock downs and other emergency situations, across sites such as schools, hospitals, places of worship, and government buildings. It is currently deployed in over 16,000 facilities nationwide.
MEDIA CONTACT
FOR FURTHER INFORMATION, PLEASE CONTACT:
Prepared Response, Inc.
Samantha Caron
scaron(at)preparedresponse(dot)com
253.363.8561
ABOUT PREPARED RESPONSE, INC.
Prepared Response Inc. is the leading innovator of emergency preparedness and crisis management solutions in the nation. For over a decade, Prepared Response has provided industry leading technology and consulting services that have been proven to save lives and mitigate property damage. The company's flagship product, Rapid Responder, is used by over 1,300 public safety agencies nationwide and is SAFETY Act Certified by the U.S. Department of Homeland Security as a Qualified Anti-Terrorism Technology, along with being endorsed by the National Sheriffs' Association. Rapid Responder is currently deployed in educational facilities, public buildings, critical infrastructure and private facilities across the U.S.
The privately held company is headquartered in Kirkland, Washington. Additional information can be found at http://www.preparedresponse.com or by calling 1-866-862-7741.