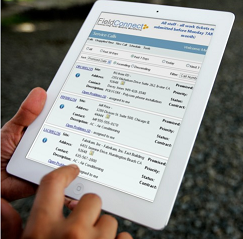 "FieldConnect's team was great and flexible to our needs...The experience with implementation was easy and had a fluent flow for our data. The process couldn't have gone any better." – Josh Teele, IT Manager for Christy Webber Landscapes
Chicago, IL (PRWEB) June 24, 2015
The Landscaping industry has moved toward Mobile Field Services embracing technology and Christy Webber Landscapes is one example of seamless Mobile Field Services integration. FieldAccess technician software allows for unified integration with Christy Webber's existing Vista by Viewpoint ERP system, as well as remote access to landscaping site history, job specifications, pictures, and diagrams. As a result, calls can be created in the Vista environment and routed immediately to the landscape professional, providing accelerated service, eliminating manual data entry errors, and allowing Christy Webber Landscapes to issue invoices the same day as landscaping services are performed. In addition FieldGateway simplifies scheduling by organizing landscaping work orders.
"FieldConnect's team was great and flexible to our needs. The stability and ability to organize the work order made our scheduling life easier. We felt that FieldConnect grows with the customer in mind and adapted to our needs. The experience with implementation was easy and had a fluent flow for our data. The process couldn't have gone any better." – Josh Teele, IT Manager for Christy Webber Landscapes
FieldConnect offers a comprehensive suite of mobile solutions that empower customers and boost efficiency in a client's field services, billing, and payroll departments by extending the functionality of Vista by Viewpoint, Microsoft Dynamics AX, GP, and SL, as well as Sage Timberline, ERP systems.
Come visit FieldConnect at CFMA's Annual Conference & Exhibition at the Sheraton Chicago Hotel & Towers held June 27- June 30, 2015 at booth #311!
For more information, please visit http://www.fieldconnect.com/events
About FieldConnect
FieldConnect maximizes customer satisfaction and profit per field technician by managing real-time service call information to all service stakeholders: customers, technicians and dispatchers. Our suite of software applications extends the functionality of Viewpoint Vista, Sage 300 CRE and Microsoft Dynamics field service solutions. FieldConnect is a privately held Microsoft Certified Partner and Viewpoint as well as Sage Development Partner based in Irvine, California and has been deploying field service solutions since 2002. http://www.fieldconnect.com
Christy Webber Landscapes
Christy Webber Landscapes is a full-service landscape provider offering design, construction and maintenance programs to residential, commercial and municipal clients throughout Chicago.
CWL is a certified Woman-Owned Business Enterprise with the City of Chicago (W.B.E.) and Cook County and a certified Female Business Enterprise with the State of Illinois (F.B.E.).
visit: http://www.chicagogreenworks.com
About Viewpoint…
About Viewpoint Viewpoint, a leader in meeting the collaborative and information needs of the AEC industry offers construction-specific solutions for a variety of professionals including small, medium, and large and enterprise contractors. Viewpoint solutions include takeoff and estimating, project management, accounting solutions, enterprise resource planning, project and BIM collaboration, mobile field-to-office and enterprise content management. Viewpoint customers include more than 30 percent of the ENR 400 and have the most technology partnerships with the top 50 mechanical and electrical contractors in the United States. Viewpoint serves as the technology partner of choice to the construction industry and delivers the right solutions on the right platform, including cloud, SaaS and on premise solutions and provides customers improved accountability, efficiency and productivity throughout the U.S., Canada, the United Kingdom, Europe, the Middle East and Australia. - See more at: h ttp://viewpoint.com