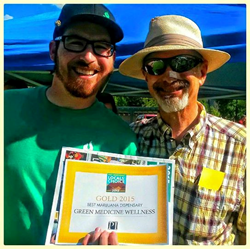 We would like to sincerely thank all of the local residents for voting and showing such incredible support for us throughout the years. - Dan Sullivan
Glenwood Springs, CO (PRWEB) July 01, 2015
The Green Joint and Green Medicine Wellness were named "Best Marijuana Dispensary" in the Post Independent's Locals' Choice 2015 Awards. This is the second year in a row The Green Joint - Green Medicine Wellness have won the Best Marijuana Dispensary category, as Green Medicine Wellness won Gold in 2014 as well.
"It was an absolute honor to accept the Gold Local's Choice Award on behalf of The Green Joint/Green Medicine Wellness this past weekend," said Dan Sullivan, owner of The Green Joint. "We would like to sincerely thank all of the local residents for voting and showing such incredible support for us throughout the years... We couldn't have done it without you!"
The winners were presented with the Locals' Choice awards on June 19 at the start of the 118th Annual Strawberry Days Festival in Glenwood Springs. The Green Joint - Green Medicine Wellness took home the Gold award, while Green Cross earned Silver, and the Green Dragon took Bronze.
Each year, the Post Independent celebrates the best of the Roaring Fork Valley community by allowing residents in Glenwood Springs and its surrounding areas to vote for their favorite businesses in over 65 categories. Businesses are grouped into seven main categories, including Retail, Food & Beverage, Arts & Culture, Professional Services, Travel & Tourism, Local Recreation, and Local Life.
The winners are selected based on the the most votes in each respective category. Voting lasted throughout the month of May, and locals could vote for their favorite businesses in each category once each day.
Green Medicine Wellness has offered medical marijuana to the Roaring Fork Valley since 2009, and The Green Joint opened its doors to recreational marijuana patrons in 2014. The Green Joint - Green Medicine Wellness operate out of an iconic green Victorian house at 1030 Grand Avenue in Glenwood Springs.
The dispensaries' premium cannabis is grown locally, and the two businesses are locally owned and operated as well. The Green Joint - Green Medicine Wellness also sell a variety of high-quality edibles, concentrates, tinctures, salves, logo gear, and more. The Green Joint's website, thegreenjoint.com, has a unique feature called the High Finder, where users can browse strains based on the type of activities they are looking to enjoy, or the type of high they prefer.