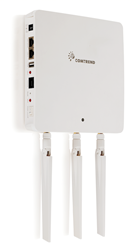 Irvine, CA (PRWEB) July 01, 2015
Comtrend, a global supplier of broadband communication equipment and advanced networking solutions, celebrates their 25th anniversary this year. Comtrend was founded in 1990 as a broadband equipment manufacturer, and has grown its product line to include home networking, SMB wireless, and surveillance. Comtrend will be celebrating by kicking off a national promotion that allows consumers and businesses to see how Comtrend has grown. From now until the end of the year, Comtrend will highlight and promote a new, diversified set of products for consumers and businesses alike.
Comtrend's first product promotion is buy 5 get 1 free of the AC1750 Access Point. This offer runs from June 1, 2015 to August 31, 2015. The AC1750 Access Point, model WAP-PC1750W, is Comtrend's first high-end wireless access point. The WAP-PC1750W offers ultra-fast speeds and exceptional coverage. Not only can it send high power wireless signals to far away locations (560mW), it also has ultra high sensitivity so it can "hear" wireless communication from far away devices (-93dBm). Together, the high power and high sensitivity brings ultra-competitive coverage that rivals access points previously used in large, business environments.
Comtrend North America's Vice President of Marketing & Sales, John DiFrenna, comments, "This promotion is an exciting call to action for our Telco/Reseller partners and their customers. The AC1750 Access Point is one of the newest and most compelling products to be added to the Comtrend business networking catalog and our marketing team was committed to launching a promotion that would do it justice. If there ever was an economic reason to utilize the AC1750 Access Point for business and prosumer wireless applications, this is it."
With a host of new and exciting Comtrend products coming out soon, the national promotion will span all product lines. Stay tuned to see what is next.
For more information on the "Comtrend's 25th Anniversary" promotion, please visit us online here: http://us.comtrend.com/promotions/comtrendturns25/