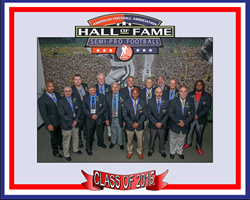 This yearly induction at the Pro Football HOF continues to be a highlight.
(PRWEB) July 05, 2015
This year's enshrinement festivities began on Thursday evening, June 25, 2015, at the Pro Football Hall of Fame in Canton, OH with the annual AFA/HOF Alumni Huddle cocktail party. The "Huddle" provided attending HOF Alumni an opportunity to meet and greet the new group of semi-pro/minor league football legends before they were inducted.
On Friday evening, the Class of 2015 was honored by AFA Alumni, family, and friends as they received their commemorative Semi-Pro/Minor League Hall of Fame recognition plaques. Craig Ochoa (Class of '03) served as MC, while former teammates and/or family members presented the new inductees to the dinner crowd. Each inductee provided very sincere and touching testimonies about their backgrounds and careers. The induction dinner event webcast was viewed by over 1000 friends, family, and fans worldwide.
This year we were especially honored to induct posthumously another pioneer, Woodrow Wilson Woolwine "Woody" Strode (July 25, 1914 – December 31, 1994). "Woody" Strode was born in Los Angeles, California. Strode, Kenny Washington and Jackie Robinson starred on the 1939 UCLA Bruins football team, in which they made up three of the four backfield players. Strode and fellow UCLA alumnus Kenny Washington were two of the first African-Americans to play in major college programs and later the modern National Football League, playing for the Los Angeles Rams in 1946. All three had played in the semi-professional Pacific Coast Professional Football League earlier in the decade.
The American Football Association is proud to present the names of those who will be enshrined into the AFA Semi-Pro/Minor League Football Hall of Fame as the "Class of 2015" (names in parentheses indicate sponsors of the new inductees):
Pioneer Category:
"Woody" Strode - Los Angeles, CA
Officials Category:
Joe Friers – Ballston Spa, NY
Coaches Category:
Dale Glossenger – Denton, NC
Phil Pompeo – SeaTac, WA
Pedro Trevino – Racine, WI
Player Category:
Jack Ball – Villa Pack, IL
Chris Hughes – Scott Depot, WV
John Brennan - Charlestown, MA
Bobby Hitz – Chicago, IL
Jack Zusy - Burton, OH
Doug Black - Watertown, NY
Joseph Brumfield – Chambersburg, PA
John Speidel – Lowell, MA
Walter Thiel – Oak Park, IL
Charles Mitchum - Waterford, NY
Mike Malatino - Johnstown, NY
The enshrinement of this year's class of 16 new hall of famers will see the association's 35 year total number of inductees expand from 709 members to 725 members. Since the inaugural enshrinement in 1981 (including the Class of 2015) the AFA has recognized 427 players; 106 coaches; 87 executives; 31 officials; 25 pioneers; 20 media/historians; 13 trainer/equipment men; 6 associated with youth football; 5 involved with international semi-pro; 4 from the women's level; and 1 'super fan'.
Links to key event archives:

About the American Football Association:
The American Football Association is a national 501(c) (3) non-profit, tax exempt corporation in its 35th year of operation, and is dedicated to the advancement of adult (semi-pro) football from coast-to-coast. Our slogan is Semi Pro & Proud®. We are not affiliated with any other national semi-pro/minor league organization. The AFA, Hall of Fame, American Football News™ and AFA logo design are registered trademarks of the American Football Association. All other AFA-related trademarks are trademarks of the American Football Association.