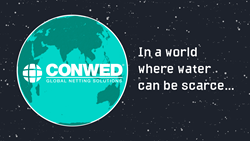 Minneapolis, Minnesota (PRWEB) July 08, 2015
Conwed, the leading plastic netting manufacturer in the world, premiered its new video where the role of its Feed Spacers for Reverse Osmosis (RO) applications is explained. In a world where the number of people with no access to fresh, drinkable water, is a concern, water treatment technologies such as reverse osmosis are vital to guarantee water supply for future generations.
Desalination research and technology has grown exponentially in recent years and has gathered a large community of scientists and engineers seeking and building solutions to problems of energy consumption, efficiency management and environmental impact. Reverse Osmosis technology accounts for more than half of the desalination capacity installed worldwide and continues to play an important role in securing water supply for human consumption.
An RO spiral-wound element is a filter comprised of different layers. It contains membrane, feed spacer and permeate sheets rolled up around a product collection tube. Conwed feed spacers hide inside RO spiral-wound elements and provide the necessary gap between membrane and permeate layers to promote turbulence of the feed stream. "Until now, most of the reverse osmosis innovation has come from membrane developers but we believe the next wave of innovation will come from the feed spacer", said Ivan Soltero, Strategic Marketing Manager at Conwed.
The new video - Feed Spacer Innovation for Reverse Osmosis Applications - covers the role of feed spacers in reverse osmosis and their impact on water desalination performance. Feed spacers can help address the three main challenges in every RO system: membrane damage, pressure drop and biofouling. Selecting the optimal feed spacer helps prevent membrane damage during the rolling/winding process of the RO spiral-wound element. The pressure applied to roll the different material layers may cause damage to the membrane surface, which could impact the salt rejection levels once the filter is in operation.
Pressure drop is the loss of applied feed pressure and therefore a loss of efficiency in the RO system. Having the right feed spacer along with optimal membrane and permeate layers can determine the water turbulence and resistance in the filter. Finding the right balance is key to reduce pressure drop. Biofouling is the accumulation of unwanted microorganisms and algae grow on the feed spacer or membrane surface. It could clog the membrane and feed spacer leaving less permeable area and increase flow resistance leading to potentially higher pressure drop results.
"Our ultimate goal is to become the leading feed spacer developer worldwide. We have the expertise to tackle every RO system challenge from a feed spacer perspective and continue to develop the next-generation feed spacers", said Soltero.
To watch the new video, Feed Spacer Innovation for Reverse Osmosis Applications, visit http://www.conwedplastics.com/ro
About CONWED
Conwed is the leading plastic netting manufacturer in the world. Conwed manufactures extruded, oriented and knitted netting with unique customization capabilities. Headquartered in Minneapolis, Minnesota, Conwed has five manufacturing locations on two continents and a global distribution network.