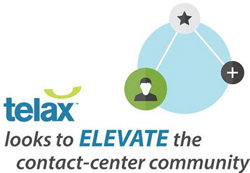 Toronto, ON (PRWEB) July 13, 2015
Telax is asking industry professionals to visit ElevatingContactCenter.com to answer a few quick questions on the types of information and content they really want/need. As a thank you for each completed entry, Telax will donate to one of four not-for-profit organizations.
"We're not interested in turning the data we acquire into promotional pieces or ads in disguise," said Fahad Muhammad, Marketing Director, Telax. "We're looking to lead industry education with the most relevant topics regarding contact center and customer service. That's why our goal is to use our findings to develop strong future content that is genuinely useful to Telax clients, partners and others in the contact center industry."
In addition to Telax making a charitable donation, those who take a moment to contribute to ElevatingContactCenter.com will have the opportunity to receive free premium content early!
This is a chance to do some real good while working to fuel industry knowledge. However, the site will only be accepting feedback for 45 days. So contact center professionals should head to ElevatingContactCenter.com today!
About Telax
Telax Hosted Call Center provides the capabilities to create a world-class customer care and service desk operation. By leveraging cloud computing, Telax delivers an advanced contact center solution with more functionality than traditional hardware at a fraction of the cost. Telax clients get a customizable, easy-to-use solution that includes responsive, full-service support and no long-term contracts. The simplicity delivered by Telax Hosted Call Center enables clients like Best Buy, Johnson & Johnson, CI Investments, Health Canada and the GSA, to provide the best service to their customers, valuable business intelligence to their executives, and a user friendly solution for their agents. The result is a better customer experience today and a better organization tomorrow. And Everybody's Happy. ™