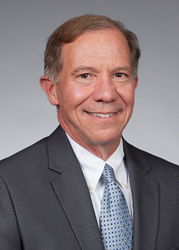 I look forward to working with our talented leadership team and committee members to meet our agenda...
Reno, Nevada (PRWEB) August 04, 2015
Alan B. Rabkin, Of Counsel in Holland & Hart LLP's Reno office, has been appointed Co-Chair of the International Financial Products & Services Committee of the American Bar Association (ABA). Mr. Rabkin served as the Vice-Chair of this same committee from 2009-2015.
The International Financial Products & Services Committee, which is the most active in the Section of International Law, has over 500 members from around the world and includes some of the most prominent attorneys in the field. It focuses on international and comparative legal, regulatory, and supervisory issues related to financial institutions, including investment funds and firms that provide banking, capital markets, investment, and insurance products and services.
"It is an honor to have been appointed as a Co-Chair alongside a seasoned financial services lawyer from Ireland who will offer an additional European perspective. I look forward to working with our talented leadership team and committee members to meet our agenda of providing a unique forum to share information from a country-specific, regional, and global perspective," said Mr. Rabkin.
As Vice-Chair of the committee, Mr. Rabkin helped organize major programs at ABA seasonal meetings and forums focusing on financial services around the world including New York, Washington, Paris, Dublin, Buenos Aires and in October, Montreal. Topics ranged from the financial crisis, to capital adequacy, virtual currency, sovereign debt defaults and FX regulation. Mr. Rabkin is well-versed in emerging and unique payment systems, cyber-security, cryptocurrencies, and international bank M&A.
Mr. Rabkin focuses his practice on working closely with small and medium-sized banks in every phase, from formation through the operational and growth lifecycles and has worked on a, dozen bank acquisitions and mergers on behalf of both the acquired and acquiring banks. Rabkin worked as inside counsel for more than 16 years in senior in-house positions at some of the most visible financial institutions in the region and he has represented banks as both as a sole practitioner and with California and Nevada law firms for over 17 years. Rabkin is also an academic at the cutting edge of our financial laws. Rabkin received both an LL.M and a Ph.D. in law from Trinity College Dublin, and he has served as a Lecturer in European Financial Institutions at Trinity College in Dublin. Rabkin is enrolled as a European Solicitor in the Law Societies of England/Wales, the Republic of Ireland, and Scotland.
###
About the ABA Section of International Law
The ABA Section of International Law, which has more than 20,000 members in 90 countries, is the leader in the development of policy in the international arena, the promotion of the rule of law, and the education of international law practitioners. It focuses on the full range of international legal issues and is involved in a wide variety of substantive legal activities. The Section seeks to promote and further the development of interest, activity, and research in international and comparative law and related areas; to promote knowledge and formulate professional opinion of international law among members of the legal profession and others; to promote professional relationships with lawyers similarly engaged in foreign countries; and to advance the rule of law in the world.
About Holland & Hart
Holland & Hart LLP delivers integrated legal solutions to regional, national, and international clients of all sizes. Since its inception in 1947, Holland & Hart's approximately 500 lawyers have consistently been recognized by leading national and international peer and industry review organizations for innovation and dedication to the practice of law. For the fifth consecutive year, the firm was named to BTI Consulting's list of Most Recommended Law Firms by corporate counsel. For more information, visit http://www.hollandhart.com.