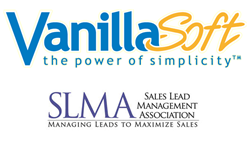 I look forward to working with the SLMA to advance the understanding of lead management in the sales process.
Plano, TX (PRWEB) August 27, 2015
Genie Parker, COO for VanillaSoft (http://www.vanillasoft.com/), has joined the Sales Lead Management Association's Board of Advisors (http://www.salesleadmgmtassn.com/article.cfm?id=582). James Obermayer, founder of the 8,250-member organization, said "Genie Parker has a deep background in lead generation and call center operations. She was named one of the 20 Women to Watch in Sales Lead Management (http://www.salesleadmgmtassn.com/article.cfm?id=617) and was interviewed on SLMA Radio to tackle the subject of Queue-Based Vs. List-Based Selling (http://slma.podbean.com/e/queue-based-vs-list-based-selling/), one of our most listened to shows. We look forward to her advice as we grow. VanillaSoft was also one of our earliest supporters."
Genie said, "I look forward to working with the SLMA to advance the understanding of lead management in the sales process. This is an exciting time as new technologies arise to better enable lead management, and in particular related to the fast-growing inside sales space."
About Genie Parker
Genie brings more than 30 years of experience in sales and marketing to the industry, with an emphasis on doing business on the phone. Her broad experience reaches into hundreds of industries including technology, manufacturing, nonprofits, financial services, and business services.
Prior to joining VanillaSoft, Genie Parker co-founded Parker, Murray and Associates (PMA), a remarkably successful boutique outbound call center. Genie's company consistently delivered sales, qualified leads, appointments, marketing and fundraising services to U.S. corporations, from The Fortune 500 to small businesses, for 15 years.
PMA gained a reputation in the industry with companies looking to carry out highly productive calling campaigns while ensuring a quality customer experience. Genie's knowledge of technology and the entire phone sales process gives her the ability to bring the two together to give VanillaSoft customers the tools they want and need. Genie worked at companies such as L'Oréal, Monet, and 1928 Jewelry, and holds a B.S. degree in Marketing from The University of Southern Mississippi.
About VanillaSoft
Founded in 2003, VanillaSoft (http://www.vanillasoft.com/) was the first lead management solution provider to bring the power of simplicity to the cloud. For both small businesses and large enterprises, VanillaSoft's hosted solutions offer all of the features an inside sales force needs to be productive and successful: next-best-lead routing, logical branch scripting, progressive auto dialing, call-activity performance dashboard, and data prompts, to name a few.
The company has thousands of satisfied users in more than 23 countries, and has served up more than one billion leads to its users. VanillaSoft operates throughout the world serving a diverse number of industries; primary offices are located in Plano, Texas and Gatineau, Quebec.
About the Sales Lead Management Association
The mission of the Sales Lead Management Association (http://www.theslma.com/) is to help companies become successful in the critical business process of managing sales leads. The SLMA has 8,454 worldwide members and offers a membership directory, member-to-member discounts, and a website with 300-plus articles from 60 industry authors.
Levels of SLMA Sponsorship
There are four levels of sponsorship (http://bit.ly/1AHDTmb) for the Sales Lead Management Association. Starting at $750 annually, SLMA sponsorship offers significant exposure of 50,000 to 140,000 impressions per year to companies interested in reaching the sales lead management community.
The SLMALive Channel: Live Programming and Podcasts
The SLMALive Radio Channel produces marketing and sales shows for at-work listeners, and the weekly SLMA Radio program. SLMA internet radio has interviewed 345 executives on 281 programs. Podcast replays of SLMA Radio and programs on the SLMALive Channel number in the thousands each month. For more information about SLMA, call Jim Obermayer at (360) 933-1259.