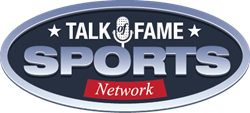 San Diego, CA (PRWEB) September 14, 2015
San Diego sports radio station XX1090 and Skyview Networks announce a broadcast partnership for the Talk of Fame Sports Network radio show. The show debuted to listeners across San Diego and into Los Angeles and Orange County Friday, September 11, 2015. Talk of Fame Sports Network, a two-hour weekly program hosted by award-winning sports journalists and Pro Football Hall-of-Fame selectors Ron Borges, Rick Gosselin and Clark Judge, launched in the top market with guest appearances by former USFLers Doug Flutie, Nate Newton and Bill Kuharich, as well as 2015 Hall-of-Fame inductee Bill Polian.
"We are excited to add the expertise of Clark Judge, Ron Borges and Rick Gosselin to the Mighty 1090's coverage of pro football," said Joe Tutino, executive producer of XX1090. "Their show added to our football Friday lineup bookends a comprehensive start to the football weekend for the Mighty 1090."
Talk of Fame Sports Network features the biggest names in the NFL, past and present, and is hosted by three dynamic personalities that know the game inside and out. The show gives lively conversation, compelling debates, and a peek into the Hall-of-Fame selection process from a perspective that only committee members can provide. The show airs Wednesdays, Fridays, Saturdays and Sundays on terrestrial radio, TuneIn Radio streaming application and by podcast at talkoffamenetwork.com.
"We're delighted to join the southern California market," said Clark Judge, host of Talk of Fame Sports Network, "and we look forward to bringing our listeners a mix of high-profile NFL guests, debates and insight that they can't find elsewhere."
Talk of Fame Sports Network has expanded to over 75 stations, including 13 of the top 25 markets and four of the top 10 markets nationwide.
"We are proud to again work with longtime partner and sports radio institution, XX1090 San Diego. Talk of Fame Sports Network will bring San Diego listeners the best of football talk, providing behind the curtain access to the Hall of Fame and an all-star lineup of guests each week," said Ken Thiele, president of Skyview Networks.
For more information on Talk of Fame Sports Network, please visit talkoffamenetwork.com, @talkoffamenet on Twitter, or Talk of Fame Network on Facebook. For Talk of Fame Sports Network or Skyview Networks affiliation, please contact affiliaterelations(at)skyviewsat(dot)com.
For more information on XX1090, please visit mighty1090.com.
About Skyview Networks
Skyview Networks is a broadcast technology and national sales solutions company that provides services to ABC Radio, professional and collegiate sports organizations and two state news networks. Founded in 1995, Skyview is based in Scottsdale, Arizona and focuses on providing national sales and broadcast network solutions to network news, professional and collegiate sports, and syndicated radio. Skyview's services include satellite distribution, full network automation, affiliate relations, inventory management systems and national audio sales with advertising solutions for radio, television, print, signage and web. For more information, visit skyviewnetworks.com.
About Three, Two, One, LLC (Talk of Fame Sports Network)
Three, Two, One LLC, founded by three longtime sports journalists, analysts and Pro Football Hall of Fame committee members, seeks sports industry experts with fresh points of view to create fun, educated sports content. Its first program offering, Talk of Fame Sports Network, is hosted by its founders Clark Judge, Ron Borges and Rick Gosselin. The show provides listeners a football talk format with a Hall of Fame thread running through the lively debate, esteemed guest interviews and stories from 100+ combined years' experience covering the National Football League. Ultimately, Talk of Fame gives outsiders a peek into a mysterious, secretive and often misunderstood process so that they can better judge future Hall of Famers for themselves. Find out more at talkoffamenetwork.com.
###
Contact:
Renee Smith, Skyview Networks PR
480-503-8700 | renee(at)skyviewsat(dot)com
Affiliations
Skyview Networks Affiliate Relations
480-503-8910 | affiliaterelations(at)skyviewsat(dot)com