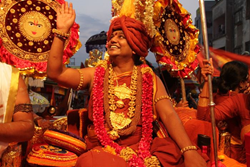 Nashik, India (PRWEB) September 14, 2015
Paramahamsa Nithyananda, Mahamandaleshwar of the Mahanirvani Akhada – one of the 13 apex bodies of Hinduism and spiritual organizers of the Kumbh Mela - took a holy dip in the waters of the Godavari River early this morning along with thousands of his devotees from more than 20 countries around the world. Prior to the dip, His Holiness Paramahamsa Nithyananda, seated in a palanquin, led the royal procession from the headquarters of the Mahanirvani Akhada to the ancient Triyambakeshwar temple on the banks of the Godavari where traditionally the sacred dip happens.
Flags of a large number of countries from around the world, including the USA, UK, Singapore to smaller countries such as Guadaloupe, Oman and others filled the skyline as the devotees from those countries waved them while they sang and danced to spiritual, devotional music. The air was full of excitement, joy and divine celebration.
The process was filled with vibrant colors, sacred divine music and dancing disciples throughout the 2 kilometer walk to the dip in the river Godavari, which turns into nectar by the energy field created by the enlightened Masters with and without form. Such an auspicious Kumbha occurs at Nashik and Trimbakeshwar once in 12 years when Jupiter enters in Leo or Simha (zodiac sign) and the Sun and Moon in Cancer.
The Kumbh Mela is the largest gathering of humanity, with more than 100 million people attending the Kumbh Mela is Prayag last time in 2013 and more than 80 million being expected to attend the Simhastha Kumbh celebrations in Nasik this year. Today's Snan (holy dip) is the second and most important of the three major Snans where the spiritual energies of the Kumbh are at the peak. Apart from the celestial configuration, the presence of millions of devotees, advanced seekers, enlightened masters and an incarnation makes the water radiate intense spiritual energy and literally washes away the tough currents, incompletions and sins of the people who take a dip in it. The whole quality of the water is literally nectar.
http://www.kumbhmela.com - The official website of the Mahanirvani Akhada for the Kumbh Mela.
For more spiritual talks by Paramahamsa Nithyananda on Kumbh Mela and Consciousness please refer to: http://www.youtube.com/lifeblissfoundation