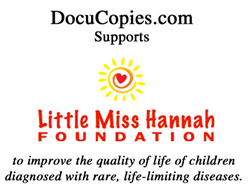 There are good people with big hearts spending their love and energy to make life better for the children and their families
San Luis Obispo, California (PRWEB) September 28, 2015
This month DocuCopies.com is proud to sponsor the Little Miss Hannah Foundation, a Nevada organization dedicated to improving the quality of life for children diagnosed with rare, life-limiting diseases, undiagnosed complex medical conditions, and children placed in hospice care. This includes providing grants for medical equipment, advocacy for rare disease research, and direct support for the children and their families.
In addition to donating $1,000, DocuCopies.com is featuring the organization in their homepage's Charity Spotlight, where thousands of eyes will see it every week.
"Tackling rare childhood diseases is an ongoing fight in the medical community," says Roe Pressley, who works in DocuCopies.com's philanthropy department. "But there are good people with big hearts spending their love and energy to make life better for the children and their families in the mean time, and we're happy to support the Little Miss Hannah Foundation in that mission."
Part of DocuCopies.com's company ethos is to affect positive change in the lives and the communities they serve. In the past, the company has supported organizations like the Epilepsy Foundation, womens' shelters, rehabilitation centers, animal rescues and more. For a more complete list of DocuCopies' philanthropic partners, visit them at https://www.docucopies.com/docucopies-gives-back. For more information on the Little Miss Hannah Foundation, visit them online.