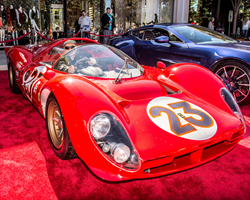 Manhasset, NY (PRWEB) October 01, 2015
Now in its 11th year, the Americana Manhasset Concours d'Elegance has become a must-attend fall event for car aficionados and fashionistas alike. This year's event takes place on Sunday, October 11. "Hosting the Concours at a leading fashion destination ties in nicely with the art and form of automotive design and function. Just as fashion designers often draw inspiration from the past to project a modern view point, the same can be said for automotive design," explains Deirdre Costa Major, President, Castagna Realty Retail Group.
150 privately owned cars compete for Best in Class and Best in Show. Judged cars range from pre-war to current one-of-a-kind super cars.
Some of this year's featured cars include cars as diverse as a 1908 Oakland and the latest Porsche 919 Le Mans race car. Also on display will be a 1965 Ford GT 40, an Aston Martin DB6 from 1967, and the 1963 Mustang lll Concept Show Car. Also featured will be a Ferrari P4/5 by Pininfarina. "I have been attending this event since it started," notes Jim Glickenhaus, owner of the P4/5, which will be competing in the show, and a well-known car enthusiast. "I enjoy showing my cars at this event because the field is always diverse. You can almost trace the history and lineage of certain cars when you see an older model next to its new incarnation."
Official judging begins at 9:30am. Dr. Howard Krimko, former National Director of the Rolls Royce Owners Club, will once again serve as Chief of Judges for the event. "It is great to see how cars have changed and evolved, not only technically but also from a design point of view," states Dr. Krimko. "When a car from the 1930's is next to a car from the 1950's, and in turn you see a car from the 70's and then a car from 2000, you can begin to appreciate the evolution of automotive design." The results of the competition and award presentation, courtesy of Tiffany & Co., will take place at 2pm on the north side of Americana Manhasset.
The Concours will benefit Sunrise Day Camp through the purchase of raffle tickets to win a 2016 Porsche Macan S. Sunrise Day Camp is the only dedicated camp in the nation for children with cancer and their siblings, where summer camp and year-round programs are provided free of charge. To purchase tickets call 516.634.41458 or visit http://www.sunriseassociation.org.
Sponsors for this year's event include: Porsche Cars North America, The Ritz-Carlton Residences, Long Island, North Hills, Daniel Gale Sotheby's International Realty AIG, SterlingRisk Insurance, Deutsche Asset & Wealth Management, Lands End at Sands Point, Deluxe Car Storage, Safavieh, Tiffany & Co., Hugo Boss, and Poll Restaurants. Automotive partners include Autosport Designs, Bespoke Motor Group, Bentley Long Island, Jaguar of Great Neck, Lamborghini Long Island, Long Island Sports Cars (Aston Martin and McLaren), Tesla, Maserati of Long Island, North Bay Cadillac, Porsche Roslyn, and Rolls-Royce Motor Cars Long Island.
Americana Manhasset is a premier collection of sixty fabulous luxury and contemporary shops, including Louis Vuitton, Prada, Gucci, Chanel, Hirshleifers, London Jewelers, Cartier, Hermès, Tiffany & Co., Dior, Bottega Veneta, Ralph Lauren, Salvatore Ferragamo, Brooks Brothers, Ermenegildo Zegna, Loro Piana, Hugo Boss, Toku Modern Asian and more, all within a unique outdoor environment designed by renowned architect Peter Marino and landscape designer Oehme van Sweden. Americana Manhasset offers a complimentary Personal Shopping Service, a remarkable fashion and gift resource. Located on Long Island's lovely North Shore, Americana Manhasset is 20 miles from Manhattan and 50 miles from the Hamptons. For information on Americana Manhasset or the Concours d'Elegance, visit our website, blog, Facebook page or follow us on Twitter and Instagram @AmericanaShops.